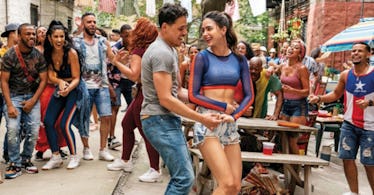 These Movies Are Premiering In 2021, So Mark Your Calendar ASAP
Warner Bros. Pictures
The year 2020 was a weird time for movies, to say the least. Due to the ongoing coronavirus pandemic, many of the year's big movies either premiered on streaming sites or were pushed back to 2021 entirely, in hopes that traditional movie theater releases would be possible by that point. Thankfully, the upcoming year is shaping up to (hopefully) be a much better one for moviegoing, so mark your calendar for these 10 movies premiering in 2021.
Thanks to recently approved coronavirus vaccines, watching new blockbusters in a theater will hopefully be possible in the second half of 2021. That means movie buffs may be able to look forward to catching up on major releases that were supposed to debut in 2020, from Timothée Chalamet's epic sci-fi adventure Dune to an adaptation of Lin-Manuel Miranda's other beloved musical, In the Heights.
But no matter what happens, at least there will definitely be plenty of new movies to enjoy from the comfort and safety of your couch. Among many other buzzy releases, hit teen franchises like The Kissing Booth and To All the Boys are each wrapping up on Netflix this year.
So, get excited for all these big new blockbuster movies premiering in theaters and on streaming services throughout 2021: