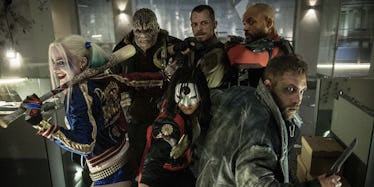 People Are Super Pissed At Rotten Tomatoes Over Its 'Suicide Squad' Rating
Warner Bros
DC fans are starting to get angry at Rotten Tomatoes for letting everyone know "Suicide Squad" is reportedly a glorified feces parade of a movie.
As much as we were all rooting for David Ayer's first foray into the DC Universe to be a success that makes us forget about *braces self* "Batman v Superman: Dawn of Justice," it's looking more and more like that simply is not going to be the case.
The reviews are starting to come in for "Suicide Squad," and by all accounts the movie isn't good.
Actually, it's not just "not good," it's reportedly awful.
I'll give you a random cross sampling of reviews for the atrocity film.
Rene Rodriguez of the Miami Herald said,
There isn't a moment of spontaneous fun or humor in this long, turgid movie.
Matthew Lickona of the San Diego Reader said,
If it were a little better, it would demand a proper autopsy to figure out what the hell happened.
Mick LaSalle of the San Francisco Chronicle said,
If you know someone you really can't stand -- not someone you dislike, not someone who rubs you the wrong way, but someone you really loathe and detest -- send that person a ticket for 'Suicide Squad.'
It was sooo bad, in fact, the friendliest review I could find was from Tony Hicks of the San Jose Mercury News, who wrote,
It will be interesting to see where DC takes these characters after the semi-delightful mess that is 'Suicide Squad.' But, for now, just enjoy the sloppy and wild ride.
Instead of blaming the movie studio for letting this happen, the writers for constructing this garbage script, David Ayer for taking a runny dump on the DC Universe and Jared Leto for being Jared Leto, fans of the movie studio are turning their blame on Rotten Tomatoes for portraying the movie in a bad light.
Forget for a second Rotten Tomatoes' score is based off review aggregation so it's not even its fault the rating is sooooooOOOooooooOOoooo low, and just allow the irony of the petition's thesis to wash over your body -- much like the confusion and horror that will wash over the faces of all those unlucky souls who drop $13.50 on a movie ticket to this unmitigated disaster of a movie over the weekend.
The petition was started by Change.org user Abdullah Coldwater, who argues the site unfairly judges DC Universe movies and that could cripple a movie's release, as negative reviews on the site affect whether people go to the movie or not.
"Suicide Squad" currently boasts a 33 percent rating on Rotten Tomatoes, which isn't terrible when you consider *braces self* "Batman v Superman" scored a super rough 27 percent.
Because people are dumb and life is meaningless, the petition has somehow amassed over 14,000 signatures at press time.
It should be noted Rotten Tomatoes might actually be inclined to rate DC movies higher. The site was previously owned by Warner Bros. before being sold to Fandango in February, in exchange for Warner Bros. gaining a minority stake in the movie ticket company.
Citations: Suicide Squad DC fans petition to shut down Rotten Tomatoes over critical reviews (Entertainment Weekly)