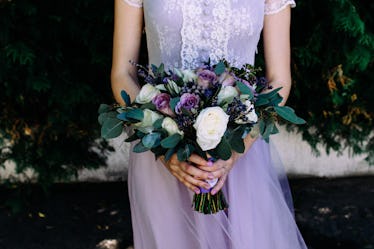 Millennial Lilac Is The Gorgeous Wedding Color Trend You've Been Sleeping On
For many brides, choosing the right color scheme for your wedding is everything. You might have thought finding your forever person was difficult, but just imagine picking one color to be the color for your special day. Once you've found "the one," though, everything else begins to fall into place. Where do you start when there a million colors to choose from? Consider hopping on the millennial lilac bandwagon. It is the new color of the season, and a gorgeous purple hue that will look so dreamy in your floral arrangements, cake, and bridesmaids dresses. In fact, I've gathered some of the millennial lilac wedding trends you'll definitely want to say, "I do" to.
Don't worry if you have a fall, winter, or even spring wedding, because millennial lilac isn't exclusive to summer. Purple is always invited to the party, and your Pinterest boards will be overflowing with this gorgeous hue. If you need some inspiration to get started, consider any of these nine wedding trends. You're sure to have a colorful affair that your friends and family will want to snap a ton of pictures of. In a sea of purple, you'll be glowing in white, and instead of the original saying, I'm now thinking this is a bit more appropriate: "Something old, something new, something lilac, something blue."