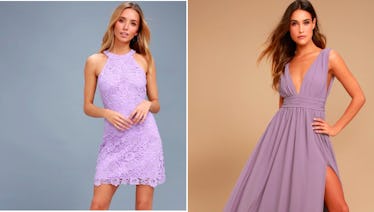 Millennial Lilac Is The One Color You'll Say "I Do" To For Your Bridesmaid Dresses
Millennial lilac is the new fad, and I'm so here for it. That's right: It's giving millennial pink a run for its money. By now, you've seen this perfectly pastel hue make an appearance in some of your favorite brands, from clothing to accessories. Since peak wedding season is upon us, brides everywhere are hopping on the bandwagon as well, pinning millennial lilac bridesmaid dresses to their Pinterest boards as we speak.
For a wedding, the color scheme is a gateway to so many makeup and accessory options for the bridal party. Think ombre eye shadow, lilac lipstick, and lilac rosettes in the hair. The color combo is going to be straight fire, but as every bride surely knows, you have to say "yes" to the dress, first and foremost.
All brides-to-be are in luck, because I've set you up with a list of enchanting lilac dresses that are sure to make your special day even more magical. And to all of my bridesmaids who are reading along: This color is so beautiful, you'll want to rock the dress for multiple occasions after the wedding. Any of these six dresses will be the center of attention, aside from the beautiful bride, of course.