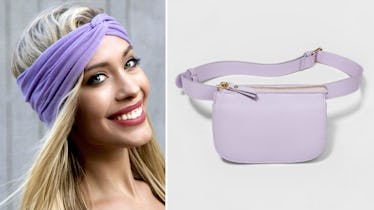 You Need These Millennial Lilac Products To Up Your Insta Game This Summer
With millennial pink products everywhere you look, it's time for another color to finally have its day in the sun — or shall I say the summer sun, to be more specific. Of course, we'll always be thinking pink, but now we've also got lilac on our minds. Step aside, millennial pink, because this summer, lilac is making a splash. As a person who's quite obsessed with purple, I cannot wait to see my favorite color everywhere, and there are a ton of millennial lilac things to buy to make my dreams come true.
When you're relaxing on the beach or traveling to a bucket list destination, you'll want to do it in style. The summer is all about having fun and doing things you love, so you'll definitely be documenting it all on the 'Gram. Your Insta aesthetic will be so on point when you've got millennial lilac making a cameo in every pic.
Since summer is right around the corner, it's the prime time to fill up your shopping cart with millennial lilac. From towels, to headbands, to notebooks, you'll want to get your hands on all of these millennial lilac items for a sweet summer you'll never forget.