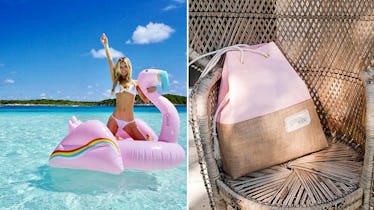 8 Millennial Pink Things You Need In Your Life That'll Give You So Much Wanderlust
Millennials are most known for two things — millennial pink and having a strong desire to drop everything and travel. There's just so much adventure out there, and our bucket lists are overflowing with dream destinations. We want to see the world, and stumble upon some hidden gems along the way, too. While feeding our wanderlust, we can totally look fab in that iconic pink hue as well. If your wanderlust is calling, it's prime time to listen to it. Packing will be made a whole lot easier with these millennial pink things to buy.
From food trends to clothes, we really can't seem to get enough of millennial pink. The pink obsession has grown so much so quickly, and we're here for it. Even Disney joined in on the fun when they announced their new millennial pink Minnie ears and millennial pink macarons. We want it all!
Sure, we love pink, but there's just something about that pale shade that has everyone seeing through major heart eyes. Maybe the color is also calling our names just like the travel bug. Either way, it's hard to fight it — so you might as well embrace it with any of these eight millennial pink items to bring on your travels, or showcase in your apartment. Your luggage has never been so color-coordinated before.