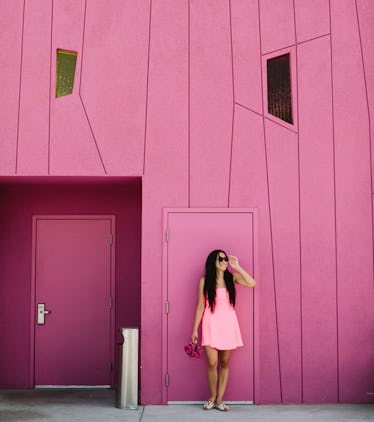 9 Millennial Pink Places Across The Globe That'll Make Your 'Gram So Vibrant
Do a quick scroll down your Instagram feed and you'll probably see a dominant color - pink. Not just any pink - millennial pink. Millennial pink has been dubbed as the color of Generation Y. It's not too light and it's not too dark. It may resemble the color of bubblegum, and it is undoubtedly the perfect shade of pink. You may have noticed this shade of pink incorporated in your favorite restaurants, clothing stores, and even your favorite '90s cupcake has officially made it yet another millennial trend. The color makes everyone and everything look cute AF, so we're not complaining. If you're looking for your next Instagram backdrop, then take note of these millennial pink places around the world.
If your favorite color is pink, you'll jump for joy every time you stumble upon a pink couch, or even a chic table. It's the little things, right? You'll want to pose behind every pink backdrop and sit in every pink-cushioned chair. You'll probably even be inspired to incorporate millennial pink into your apartment or wardrobe, because it's now acceptable for adults, and we're all about it. Fingers crossed that millennial pink isn't just a phase and it's here to stay.