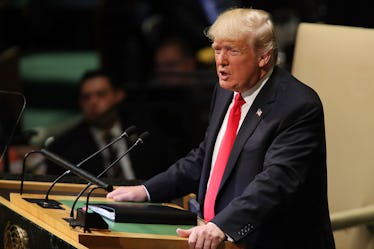 These Memes Of Donald Trump's UNGA Speech Are Really Ripping Him Apart
Spencer Platt/Getty Images News/Getty Images
As you should know by now, memes have become a precious distraction from the tumultuous world of politics. This year has seen us deal with the president's wild Twitter threats, highly-controversial policies, and more — but luckily, the internet always comes through to lighten the mood with hilarious posts. This time, people are poking fun at the speech President Donald Trump gave at the United Nations General Assembly (UNGA) on Tuesday, Sept. 25, and it's absolute gold. Seriously, the memes of Donald Trump's 2018 UNGA speech will have you in stitches.
While Trump discussed important and controversial topics like foreign policy, global trade, and mass migration in his speech on Tuesday morning, he also notably claimed at the start of his speech that his administration has "accomplished more than almost any administration in the history of [America]," which prompted a storm of laughter from the audience. Responding to the laughs, Trump said, "Didn't expect that reaction, but that's OK." Unfortunately, his response drew even more chuckles from the crowd and from viewers watching the event at home, and they immediately took to Twitter to give the moment the good ol' meme treatment.
Here's some incoming "footage" of Trump at the event:
Another inside look of the many moods of the audience during Trump's UNGA speech:
A Twitter user by the name Shari Anne Heath questioned Trump's response to the laughter, tossing in a photo of "plaid shirt guy" who went viral earlier in September giving the commander-in-chief a quizzical look.
Classic.
Media Matters For America's Parker Molloy likened the moment to the humiliating prom scene in Carrie.
Whew, some of you guys are brutal.
What makes it even worse is the fact that Trump just got the meme treatment days ago. That time, it went down over a seemingly insensitive gesture he gave while heading to a memorial service for the victims of the Sept. 11, 2001 terrorist attack. On Sept. 11, 2018, Trump was spotted fist-pumping on his way to greet fans — and yes, you read that correctly. Elite Daily reached out to the White House for comment on the intention behind Trump's gesture but did not receive a response. Nonetheless, the moment prompted a surge of backlash — and jokes — from the finest meme-makers on Twitter.
One person photoshopped the image to make Trump look like a little kid fist-pumping on his way to Chuck E. Cheese's.
Another image showed him enthusiastically fist-pumping in a Taco Bell drive-thru (a forever mood)...
...and while leaving McDonald's.
According to one Twitter user, Trump could've just been flossing rather than fist-pumping. You just have to take a closer look to notice:
Let's be honest: although some of these moments have truly been disenchanting, don't the memes add a little more of a light-hearted touch to them? IDK about you, but I honestly live for each and every one, and it shows that laughter will forever be the best medicine. Can't wait to see what the internet conjures up next.