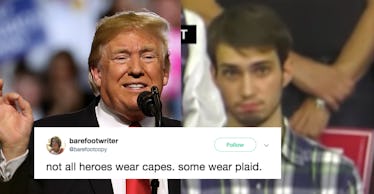 These Must-See Memes Of 'Plaid Shirt Guy' At A Trump Rally Will Crack You Up
To perhaps no one's surprise, something related to President Donald Trump is getting the meme treatment again. This time, social media users are making jokes about a certain guy who kept making funny faces behind Trump's back during one of his speeches, and these memes of "plaid shirt guy" are truly a goldmine. Get ready for lots of LOLs, folks.
The moment reportedly happened during a campaign rally in Montana on Thursday, Sept. 6. While all ears were on Trump — who discussed topics from the bombshell anoymous op-ed by The New York Times that hit the internet earlier this week to Supreme Court nominee Brett Kavanaugh's confirmation hearings — eyes drifted to a man who was in the background flashing incredulous, animated faces while looking directly at the camera. The man, a 17-year-old whose real name is Tyler Linfesty, was quickly dubbed as "plaid shirt guy" by the internet. Although he was eventually asked to leave the event by Secret Service agents, per The Hill, people had already caught onto the moment and started sharing memes of the encounter online. Elite Daily reached out to the Trump 2020 Campaign for comment on the reported removal of Linfesty from the stage but did not hear back at the time of publication
One person couldn't stop laughing at Linfesty appearing to mouth the words, "Have you?" in response to the Trump's claim that he has "gotten a lot of support" in the wake of the anonymous New York Times op-ed, in which the author wrote about attempts to "thwart" Trump's presidential decisions while working alongside him in the White House. In a written response to the op-ed sent in a tweet by White House Press Secretary Sarah Sanders, she said of the letter's author,
The individual behind this piece has chosen to deceive, rather than support, the duly elected President of the United States. He is not putting country first, but putting himself and his ego ahead of the will of the American people. This coward should do the right thing and resign.
There was a marriage proposal.
Another person shared a video of Linfesty appearing completely bewildered and mouthing "what?!" to one part of Trump's speech, which was gold, TBH.
"This guy rules."
One person thinks Linfesty has a shot at politics.
"Not all heroes wear capes. some wear plaid," is iconic.
Long live plaid shirt guy.
Despite what might have seemed like an intentional opportunity to troll the president, Linfesty told ABC Fox Montana that his actions merely reflected his actual and honest feelings. He explained:
Some people thought I was being disrespectful – I was not planning to be disrespectful ... I was just there to see the president and I had my natural reactions when I thought he said something I disagreed with, I visibly disagreed.
He also offered up an idea as to why he was removed from the event, telling CNN:
I think I know why they removed me. It's because, well before the rally they told us that 'you have to be enthusiastic, you have to be clapping, you have to be cheering for Donald Trump,' and I wasn't doing that because I wasn't enthusiastic, I wasn't happy with what he was saying.
Elite Daily reached out to the Trump 2020 Campaign for comment on why Linfesty was reportedly removed from the stage but did not hear back at the time of publication. Linfesty also said he was asked to wear Trump's famous MAGA hat before the speech, which he refused. So, I'd guess he was already on a short string before he got booted from the event.
In the end, however, it looks like the moment might've been worth it, because these memes are absolute perfection.