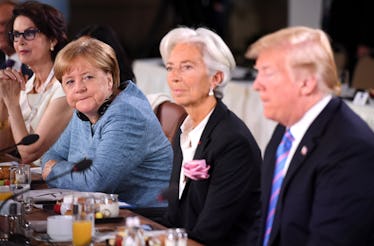 The Hilarious Donald Trump & Angela Merkel G7 Memes Say What We're All Thinking
Leon Neal/Getty Images News/Getty Images
The 44th Group of Seven (G7) summit began on Friday, June 8 in Charlevoix, Quebec in Canada. The annual gathering that saw some of the world's richest countries come together to coordinate economic policies was closely watched as President Donald Trump met with leaders from the other countries in the G7: Germany, France, Italy, Canada, Japan, and the United Kingdom. One image from the summit featuring German Chancellor Angela Merkel and President Trump quickly made its way into the world of memes. These memes of Donald Trump and Angela Merkel at the G7 summit prove that Twitter is speaking their mind by having fun with the photo.
The viral photo that focused on the two leaders was posted on Merkel's official Instagram account on Saturday, June 9, and it quickly became fodder for endless jokes on Twitter. In the photo, you can see Merkel commanding attention from the likes of her fellow world leaders as they stand surrounding a seated President Trump. The photo is quite the snapshot, and Merkel's official Instagram caption as translated from German read:
...Day two of the G7 summit in Canada: spontaneous meeting between two working sessions.
While there is no indication of what they discussed in the meeting, you immediately notice the body language in the photo as Chancellor Merkel leans in toward President Trump with his arms crossed.
Also pictured to Merkel's left is French President Emmanuel Macron and U.K. Prime Minister Theresa May. Standing near Trump is Japanese Prime Minister Shinzo Abe.
According to Fortune, all eyes were on Trump at the G7 summit thanks to his actions like pulling out of the Iran nuclear deal and his withdrawal from the Paris climate agreement last year, which were seen by many as jeopardizing the relationship between the United States and its allies. President Trump also recently imposed higher steel tariffs on European, Canadian, and Mexican imports to the United States.
With all that along with the fact that Merkel and Trump don't have a particularly rosy history, many Twitter users jumped at the chance to have fun with this photo that is prime meme material.
Thanks to Merkel's commanding presence and Trump's defiant posture in the photo, the jokes came rolling in.
Some memes played on the presence of the other powerful people in attendance of the weekend summit. Japan's Prime Minister Shinzo Abe is seen in the photo standing with his arms crossed near a seated Trump and John Bolton, the U.S. national security advisor.
Abe has been under heavy pressure to join retaliatory action against the newly imposed steel and aluminum tariffs, but Abe has been hard at work creating a friendship with President Trump since Trump took office in January 2017, per BBC News.
Others loved the sheer intensity coming from Merkel in the photo.
The candid photo posted on Merkel's Instagram account on Saturday wasn't the only photo-op these two had during the summit.
Canadian Prime Minister Justin Trudeau held a Saturday morning meeting that was focused on women's empowerment. The meeting didn't seem to be a priority for Trump, because he reportedly showed up late. After missing Trudeau's introduction, Trump conspicuously and tardily entered the room while Isabelle Hudon, co-chair of the G7 Gender Equality Advisory Council and Canada's ambassador to France, spoke to the gathered crowd. According to New York, the camera clicks and flashes during Trump's entrance into the meeting nearly "drowned out Hudon's remarks."
A photo of Trump's apparent late arrival was captured, and it shows Merkel and Christine Lagarde, Managing Director of the International Monetary Fund, looking displeased with Trump's casually late entrance.
Nothing about Trump's actions in either of the two photos is too surprising, but people were definitely loving Merkel's demeanor in both of the photos.
You'll recall that Merkel had another winning moment at last year's G20 summit when a video of her apparently rolling her eyes while talking to Russian President Vladimir Putin went viral.
There's no word on what was said to elicit the expert eye-roll from Merkel, but many posited that some mansplaining was likely involved.
The official 2018 G7 summit website put forth an official communique at the end of the two-day summit, and it focused on issues like job creation, gender equality, women's empowerment, climate change, and clean energy. The section on tariffs in the communique on the site's page read,
We acknowledge that free, fair and mutually beneficial trade and investment, while creating reciprocal benefits, are key engines for growth and job creation. We recommit to the conclusions on trade of the Hamburg G20 Summit, in particular, we underline the crucial role of a rules-based international trading system and continue to fight protectionism. We note the importance of bilateral, regional and plurilateral agreements being open, transparent, inclusive and WTO-consistent, and commit to working to ensure they complement the multilateral trade agreements. We commit to modernize the WTO to make it more fair as soon as possible. We strive to reduce tariff barriers, non-tariff barriers and subsidies.
The G7 summit ended Saturday night with an eight-page communique that expressed the shared negotiated priorities of the G7 members, but President Trump took off early and then retracted his endorsement of the final communique with a tweet announcement on Saturday evening. The retraction came after Trudeau announced that Canada's retaliatory tariffs on the United States will go into effect July 1, per CBS News.
President Trump heads to Singapore on Sunday, June 10 ahead of his historic meeting with North Korea's Kim Jong-un on June 12. While I'm sure there were be plenty of photo-ops during that highly anticipated meeting, the G7 summit memes with Chancellor Merkel and President Trump will keep you laughing until then.