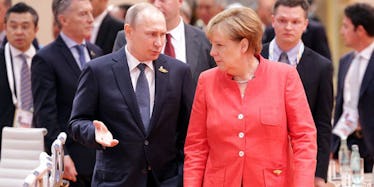 Angela Merkel Rolls Her Eyes At Putin's Mansplaining And Women Everywhere Get It
Thorsten Gutschalk - Pool/Getty Images
There's been a bit breaking news coming out of the G20 Summit in Europe.
No, it has nothing to do with world leaders discussing climate change, or President Donald Trump's relationship with Russian leader Vladimir Putin.
It definitely has nothing to do with any diplomacy related serious world issue.
It's something much more simple and benign: Thanks to Putin and German Chancellor Angela Merkel, women everywhere now have a definitive gif to perfectly sum up the act of mansplaining.
Behold:
Rest assured, you haven't seen the last of that clip. It just has too much meme potential.
Oh, and if you weren't aware, Putin, Merkel, and Trump are all gathered together in Hamburg, Germany for the gathering of leaders from 20 leading nations.
Twitter users everywhere were quick to point out just how familiar Merkel's reaction to being mansplained was:
So far, there have been a few highlights at the summit.
First, there's Trump, who finally got to meet Putin for the first time as president, and just a day after shifting more blame to former President Barack Obama than the Russian leader himself for Russia's interference in last year's election.
Second, there's First Lady Melania Trump, who was reportedly "trapped" in her hotel and unable to acquire clearance from police because of violent protests that have coincided with the summit.
Last, but not least, there's Merkel, who once again proved there are few things in politics funnier than pictures of her listening to her male peers.
Like I said, few things funnier.
Oh, and just so we're clear, no one knows what Merkel and Putin were talking about when the eye roll came -- they could have been equally annoyed about something for all we know -- nor should anyone care. That's not how gifs work, anyway.
See gif. Laugh at gif. Making nothing more of gif. Walk away from gif until needed for further use.
*Saves to gif computer*