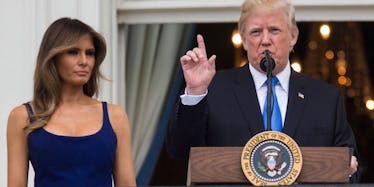 Poland's First Lady Pulls A Melania By Hilariously Ignoring Donald Trump's Hand
Zach Gibson/ Getty Images
It happened to Donald Trump once again.
During his visit to Poland on Thursday, the president got snubbed after offering his hand to Agata Kornhauser-Duda, wife of President Andrzej Duda of Poland.
Kornhauser-Duda instead greeted first lady Melania Trump.
Here's the video capturing the moment.
Of course, this isn't the first time Trump's hand has been ignored by a first lady. Last time the president journeyed abroad, people went crazy over a video that showed Melania appearing to slap his hand away.
Then there was the next day, when the first lady avoided President Trump's hand after landing in Rome. And now, there's Agata Kornhauser-Duda, whose super long name is in the news because of her super funny Trump snub.
So now we know the formula. When President Trump makes an international trip, he is often inevitably snubbed by a first lady.
By the way, none of this is meant to be a commentary on Melania and Donald Trump's relationship. In fact, we don't even need to say Kornhauser-Duda ignored Trump on purpose -- though it'd be even funnier if she did.
After all, she eventually shook his hand afterwards.
What we can say, though, is this: The absolute funniest clips of Donald Trump come when he takes trips to Europe. I mean, look at the man.
Yes, Deray, it looks like he forgot where his car was.
By the way, we should probably mention that the most important thing Trump did in Poland — giving a speech — actually earned him praise, even from some of his biggest critics.
After the president's speech in Warsaw, some conservative media members who are known to be skeptical of Trump offered positive reviews.
So now we know Trump's checklist this trip to Europe is done.
Give reasonable speech: check.
Blame Obama for something: check.
Get snubbed by a first lady after offering her a hand: check, check, check.