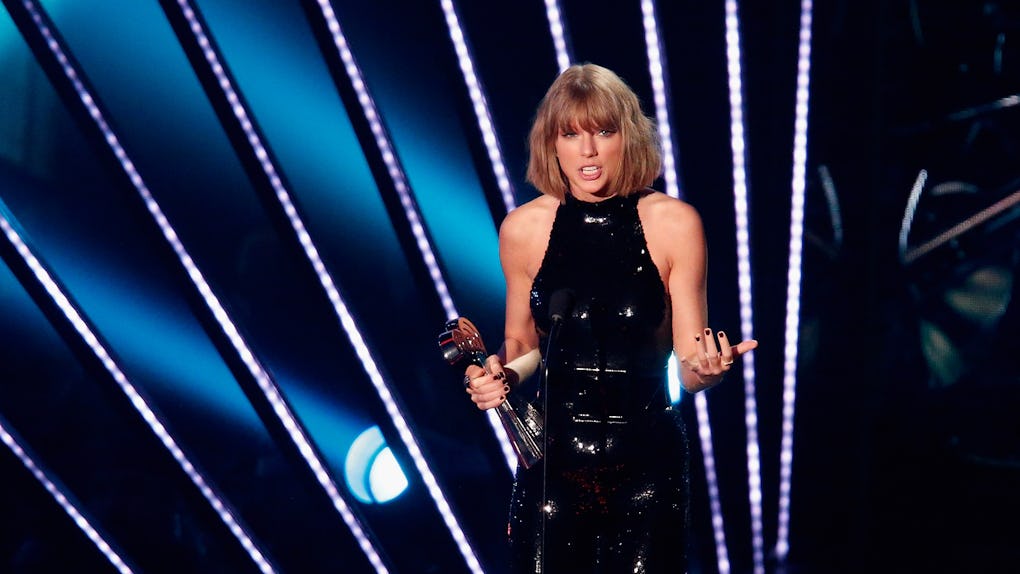 Rich Polk/Getty Images Entertainment/Getty Images
These Memes About Taylor Swift's "...Ready For It?" Music Video Will Make You Laugh So Hard
Swifties are now two for three on videos of songs off of Taylor Swift's upcoming sixth album, Reputation. At midnight on Oct. 27, TayTay dropped the video for the second single off the album, the much-anticipated "…Ready For It?" And, oh, we were. We were. So ready for it, in fact, that memes about "…Ready For It?"s music video were taking over social media within basically seconds.
I mean, I can't be surprised. Right from the start, with the preview of the video posted on Taylor Swift's Instagram on Monday Oct. 23, people were talking about the video and its crazy, cyberpunk, sci-fi aesthetic (could that be Kylo Ren I saw in there? Tay, I know you have a thing for the bad boys, but a Sith Lord is a bit much). The preview was full of flashes of lighting, glowing blue balls (LOL) and of course, maybe-naked fembot Taylor. So, things are clearly about to get real.
At the same time, it was weirdly aggressive — which means legit, the theme of an angry fembot Taylor fighting the system and herself still worked. Let's not forget about what she's asking if we're ready for, after all: "Baby, let the games begin."
And oh yes, fans were ready for Tay's games.
Some people got hung up on the double good/bad Taylor thing:
Another piece of the video that got a lot of love? That white horse.
Fans thought it looked awfully familiar. Yeah, Tay likes her white horse metaphors.
There was a horse in the video for "Love Story," in the video for "Blank Space," not to mention her actual song "White Horse."
Some were caught up with Tay's image of ~phenomenal~ cosmic ~ power~.
Maybe she's trying to tell us something about the "super" part of "superstar?"
And then there were the fans who were just plain confused.
I feel it. When someone releases a sci-fi epic disguised as a music video, it tends to throw you.
"...Ready For It?" is Swift's second song released off Reputation, and the second video to come out as well. Back in late August, Swift dropped the first hint of the new album, "Look What You Made Me Do," which right away everyone was saying was about her arch-nemesis, Kanye West. And when the video dropped during the MTV Video Music Awards, that video got meme-d as well.
First, there was the whole snake thing. (A quick recap f you've forgotten: after the whole phone drama between Taylor, Kanye, and Kim Kardashian over whether or not Taylor signed off on Kanye's song "Famous," in which he rapped about theoretically having sex with her, Kimye fans posted snake emojis all over Swift's social media. I guess Taylor's reclaimed it.) And then there was the other thing about Taylor in the birdcage, which, as Twitter reminded us, was a very popular theme in mid-aughts music videos from pop starlets. (I guess Taylor reclaimed that too.)
So the internet roasting a video while at the same time loving the hell out of it is a time-honored tradition, is what I'm saying.
But of course, the order of the day when it comes to T.Swift is.... who is a song about?
As noted above, guessing Kanye is always a popular choice (it helps that a lot of TayTay's songs tend to be both about loving and hating someone), as well as Swift's supposed current boyfriend, actor Joe Alwyn. When the song was released, everyone was pretty sure that Alwyn was, indeed, the subject of the sexy song.
And now with the video out, the internet is, strangely enough, a little more concerned with that horse.
Ride away into the (digital) sunset, Tay.