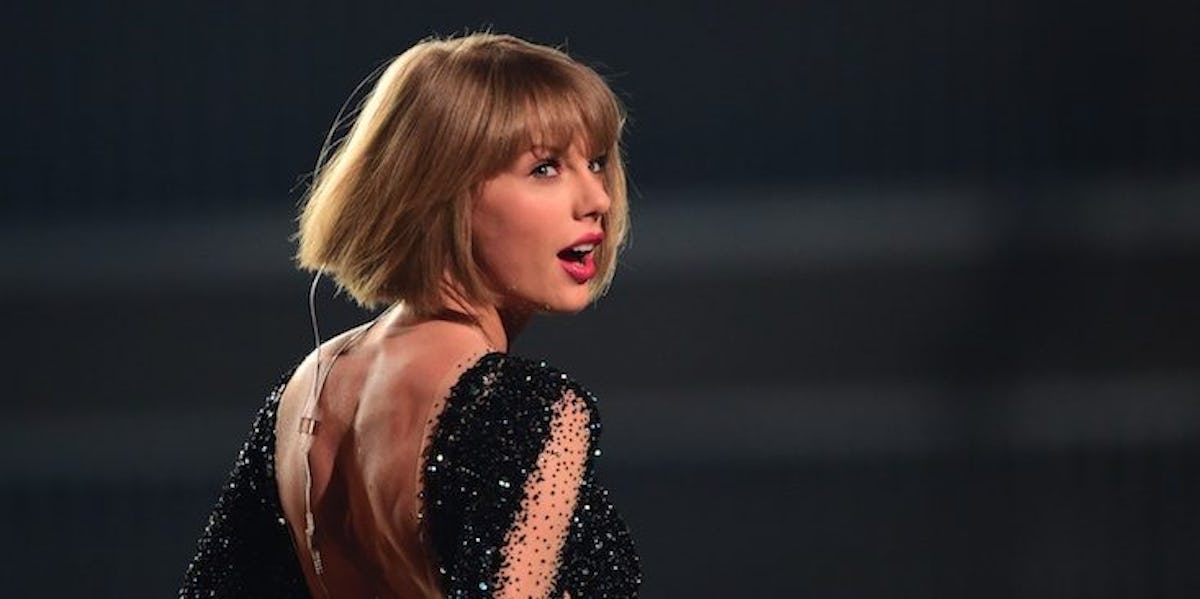 People Are Dragging Taylor Swift For Copying Miley Cyrus In Her New Music Video
ROBYN BECK/AFP/Getty Images
Taylor Swift launched her new video for "Look What You Made Me Do" at the MTV Video Music Awards on Sunday night, and right off the bat, everyone was talking about it. Though some of it was probably…. not what Taylor would like to hear. Twitter called the video out, saying Taylor Swift's new video copied Miley Cyrus.
To be fair, Taylor's been accused of copying a lot of stuff in her new video. She's been called out for copying Beyoncé's Lemonade album (and the song "Formation" in particular), and people are also already saying that Taylor's "Look What You Made Me Do" styling reminds them an awful lot of classic Britney Spears. But there's one delightful detail that really stood out — that weird birdcage.
Yeah, Taylor spends a good portion of her video on a swing in the middle of a birdcage, and it reminded a lot of people of Miley Cyrus — who, a reminder, spent the majority of her 2010 video for "Can't Be Tamed" in a birdcage (also, in an actual bird's nest too, so that's different, at least). Everything old is new again, I guess?
Twitter started raising its collective eyebrow pretty quickly.
Some people were reminded of Lindsay Lohan's foray into pop music, too.
Lindsay, if you remember, tried her hand at pop music way back in 2004, only a few months after Mean Girls made her a superstar. And the title track off her album Rumors also had some love for the aesthetic power of the birdcage.
And some people were like, "Yeah, everyone had this idea."
To be fair, it does seem like a pretty popular metaphor for pop stars looking to make a transition to a new phase. But original? Unique? That seems like a hard no.
Well, at least Taylor knows she's in good company?