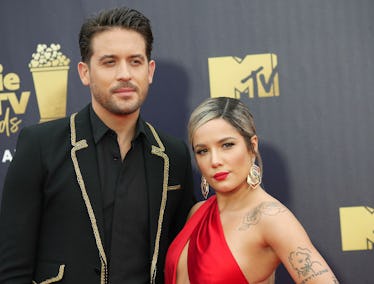 Fans Are Convinced These Lyrics On Halsey's 'Manic' Are About Her Exes
Francis Specker - PA Images/PA Images/Getty Images
Halsey dropped her third studio album, Manic, on Friday, Jan. 17, and it's the followup to Hopeless Fountain Kingdom every fan had hoped for. After one cursory listen of the entire album, it's clear it's her most personal body of work yet. In fact, fans think a lot of the Manic lyrics are about Halsey's exes.
Over the years, Halsey has dated several big names. Some of her most notable exes are G-Eazy (who she dated on and off from August 2017 to October 2018) and U.K. rocker Yungblud (who she dated from around December 2018 to September 2019). Currently, Halsey's moved on happily with actor Evan Peters, but that doesn't mean her album doesn't contain any reflections on her past relationships.
In the leadup to Manic's release, Halsey dropped songs from the album like "Graveyard," "Nightmare," Clementine," and "Without Me." Fans already knew that last one on the list was probably about G-Eazy. But now, with Manic out in full, fans think a few other songs could be about her other famous exes, too, like Yungblud and Lido.
"Without Me"
Halsey's lyrics about a crumbling relationship in "Without Me" go:
Tell me how's it feels sittin' up there/ Feeling so high but too far away to hold me/ You know I'm the one who put you up there / Name in the sky/ Does it ever get lonely?/ Thinking you could live without me
The clearest indication these lyrics might be about G-Eazy is the song came out on Oct. 4, 2018, right around the time her relationship with G-Eazy was crumbling. While Halsey had reconciled with the rafter after their first breakup shortly before the release, by the end of that month, they broke up a second and final time. Halsey's "Without Me" music video dropped on Oct. 29, 2018, co-starring a guy who looked notably like G-Eazy.
Three months after their split, in February 2019, Halsey performed "Without Me" on SNL, and the words "Ashley, I cheated," were scrawled across the back of the stage, further hinting infidelity may have contributed to their breakup. (Halsey and G-Eazy's teams did not previously respond to Elite Daily's request for comment on the performance.)
"You Should Be Sad"
In "You Should Be Said," Halsey sings about someone who is selfish and had visions of grandeur, and expresses relief she never had a child with him. In it, she sings:
No, you're not half the man you think that you are / And you can't fill the hole inside of you with money, drugs, and cars / I'm so glad I never ever had a baby with you / 'Cause you can't love nothing unless there's something in it for you
Some fans assumed the song was about G-Eazy again, but others felt it was about Lido, the Norwegian producer she dated on and off from 2015 to 2016.
But it's important to note Lido actually served as a producer on several of Halsey's Manic tracks, which hints the harsh lyrics in this one may be about another ex, or about nobody in particular at all.
"Finally // beautiful stranger"
Fans are pretty sure this track about finally feeling safe enough with someone to fall in love with them is about Yungblud because of one telling lyric:
Your eyes, so crystal green / Sour apple baby, but you taste so sweet / You got hips like Jagger and two left feet / And I wonder if you'd like to meet
Simply put, Yungblud has green eyes.
The loving tone of the song could also reflect Halsey's continuing love for Yungblud, who she hinted she was still friends with in a now-deleted October 2019 tweet that reportedly said: "Sometimes. People just break up. It doesn't mean someone cheated or something bad happened or someone f-ed up. Sometimes. It just happens. Because life Is constantly changing. And adults stay friends and move on."
If this track is, in fact, about Yungblud, fans couldn't help but feel sad that Halsey's relationship with him didn't work out.
Halsey dug deep for this album, and her fans definitely noticed.