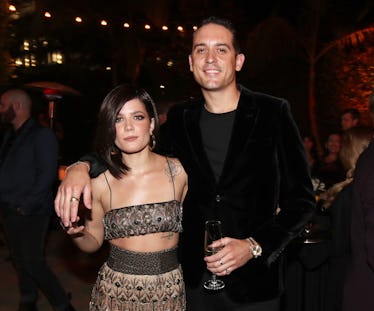 Halsey Just Dropped A New Song That Could Be About Her Summer Breakup With G-Eazy
Christopher Polk/Getty Images Entertainment/Getty Images
I don't know about you guys, but I'm still riding the Halsey and G-Eazy relationship rollercoaster. While the two broke up in July 2018, they've definitely been playing a little bit of on-again, off-again game, having reunited publicly September 2018. For these reasons, the lyrics to Halsey's new song "Without Me" has peaked fans' interest. Is Halsey's "Without Me" about G-Eazy and their summer breakup? Like, maybe? Probably? The lyrics are very specific and the timing is a little bit uncanny for it not to be. It's hard not to read into this new track's pointed lyrics.
In July, fans were devastated to hear the two artists called it quits. Halsey released an official statement on her Instagram account that said she normally keeps "this kind of thing private" but the public nature of their careers prompted her to fill fans in. At the time, she wrote, "G-Eazy and I are taking some time apart. I'm eager to continue the upcoming passage of time dedicating myself to my art and my career, and the duration of my tour. I wish him the best." Today, Halsey and G-Eazy have backtracked all the way and look like they're trying to make things work again. As recently as Oct. 3, Halsey shared a picture of herself kissing G-Eazy with the caption, "sweetness of my whole damn life."
In an interview with DJ Zane Lowe, Halsey spoke about her new song and possibly her relationship with G-Eazy (though she never mentioned him by name). She said "Without Me" is the first song she's written as her true self (born Ashley Nicolette Frangipane) and not as Halsey. Regarding her feelings towards love and her relationships, she said, "we're just people."
Interesting...
Take a look at some of these lyrics:
[Verse 1] Found you when your heart was broke / I filled your cup until it overflowed / Took it so far to keep you close (keep you close) / I was afraid to leave you on your own
[Pre-Chorus] I say I'd catch you if you fall / And if they laugh, then fuck 'em all / And then I got you off your knees / Put you right back on your feet / Just so you can take advantage of me
[Chorus] Tell me how's it feel sittin' up there / Feeling so high but too far away to hold me / You know I'm the one who put you up there / Name in the sky / Does it ever get lonely? / Thinking you could live without me / Thinking you could live without me / Baby, I'm the one who put you up there I don't know why (Yeah, I don't know why) / Thinking you could live without me / Live without me / Baby, I'm the one who put you up there / I don't know why (I don't know why, yeah yeah)
[Verse 2] Gave love 'bout a hundred tries / Just running from the demons in your mind / Then I took yours and made 'em mine / I didn't notice 'cause my love was blind
I mean... it's not not about a breakup, right?
Can I imagine Halsey writing these lyrics about G-Eazy as she cried into her pillow about their breakup over the summer? Absolutely. And if they are about him, G-Eazy clearly was lonely living without Halsey, hence their reunion.
The song oozes Halsey's signature combination of chill and moody vibes, paired with a sick little beat. It's perfect for car rides, getting ready to go out, or to listen to while you cry into a bag of Doritos during your own breakup.
Not speaking from experience or anything...
Thanks for the soundtrack to my autumn, Halsey!