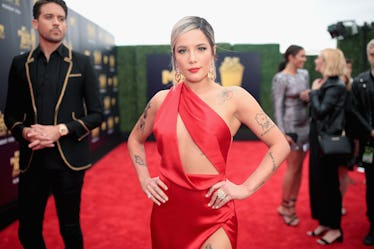 Halsey's New Music Video Stars A G-Eazy Lookalike As Her Troubled Lover
Christopher Polk/Getty Images Entertainment/Getty Images
Is Halsey revealing the ups and downs of her relationship with G-Eazy in a new music video? Well, it certainly could be the case. Halsey's "Without Me" music video stars a G-Eazy lookalike and if it's, indeed, meant to be a representation of him, then it's not a very flattering one. In the video, Halsey can be seen enjoying a passionate yet troubled relationship with a man who looks strikingly similar to G-Eazy. The video shows the G-Eazy lookalike living with addiction and jeopardizing his relationship with Halsey as a result of his habits. Elite Daily reached out to Halsey and G-Eazy's teams for comment on the music video and the inspiration behind it, but did not hear back by the time of publication.
While it's yet to be confirmed that the man in the video is supposed to be G-Eazy, Halsey did reveal in an interview with Beats 1 that the song is an especially personal one for her and the very first one that she's written under her real name, which is Ashley Frangipane.
"I think that's what I'm kind of getting at is that it's like it's not protected by some character or some subplot," Halsey said. "It's like this is really me talking about my life. It kind of gave me like an existential crisis as an artist a little bit, because I've prided myself on being an artist who's authentic and writes about her life and all that stuff. And then when I made this and I felt just how bad it hurt."
So, whether the song and video are about G-Eazy or not, "Without Me" is still based on Halsey's reality.
If you haven't seen the "Without Me" music video yet, check it out down below:
The guy in the video looks pretty similar to G-Eazy, right? And if that actually is supposed to be him, then Halsey is revealing quite a lot about their relationship. While substance abuse issues don't seem to have been a direct cause for their recent split, the video does bring into question whether it was a point of contention between the two stars.
As for G-Eazy, he's been quite open about living with addiction himself. In January 2018, while doing an interview on The Breakfast Club, G-Eazy was asked whether the substance abuse references on his album The Beautiful & Damned were pointing to a deeper, underlying issue.
"Well, I think that's a blurry line, it's not black and white," G-Eazy said in response. "I think sometimes the line between recreation or just tapping in turns into leaning on or depending on or escaping from."
Then in May 2018, while on tour in Sweden, G-Eazy was reportedly convicted of assault, drug possession, and resisting arrest. Two days later, G-Eazy took to Instagram to express his gratitude for having lived through the incident.
"Grateful & blessed to be free & safe. Happy to be in Copenhagen tonight doing what I love most," he captioned the Instagram post. "Embarrassed & apologetic beyond words about the incident, but above all I'm so f*cking grateful they let me go, craziest experience of my life, awful night with a lot of bad luck and some even worse decisions but like I said I'm grateful as f*ck to be a free man, back on tour performing for the fans. Thank you to everyone who's held me down along the way and supported this journey, I appreciate you more than you'll ever know. Love."
So, with all that in mind, maybe there are some nuggets of truth in the video that Halsey wanted to reveal to her fans. Whatever the case is, the 24-year-old singer is extremely brave for being this vulnerable in her creative efforts.