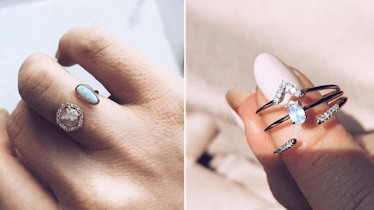 Everyone On Insta Is Loving These Rings & You'll Want One For Your Outfit Selfies
Every girl deserves a chance to shine, and the easiest way to make that possible is by incorporating a little bit of bling in your daily look. I believe it's true that diamonds are a girl's best friend, because they're always there for you, they brighten up your day, and you'll both look amazing in your selfies. I love rocking as much jewelry as possible, and rings are my favorite accessory. They're a subtle way to add sparkle to any outfit, and you don't need to be engaged or married to treat yourself to a diamond or gem ring. In fact, these Local Eclectic rings are gorgeous and need to be added to your jewelry collection ASAP.
It's no wonder why everyone on Instagram is obsessed with these rings from Local Eclectic. To be honest, I want one for every finger, and I'm living for the combinations of opal, diamonds, turquoise, and moonstones that come in the collection. Maybe you're looking for a single lady ring to rock with pride, or you and your crew are in search of some friendship jewelry. Either way, there's a ring on this site that's calling your name. Give your peace sign selfies a little something extra with any of these seven Local Eclectic rings, but make sure to check out the entire collection. You'll certainly find a little sparkly something that'll catch your eye.