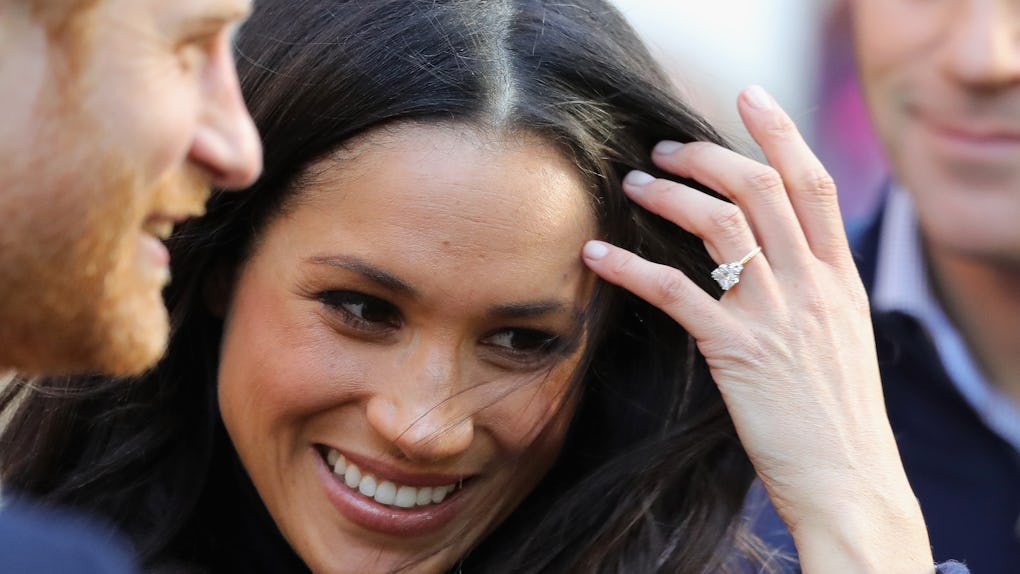 Christopher Furlong/Getty Images Entertainment/Getty Images
8 Royal Wedding Rings & What They're Actually Worth
Yep, it's official: I have royal wedding fever. Normally, I don't get all fired up about all the comings and goings of the British royalty, but add Meghan Markle into the mix and I can't get enough. Suddenly I'm wondering about every detail of their wedding, including, of course, the rings. As it turns out, when it comes to the Windsors, even something as simple as a gold band is anything but basic. And if you've ever wondered what royal wedding rings are worth, the answer, unsurprisingly, is a lot, because of course a band of regular gold isn't enough — it has to made from very special Welsh gold.
What makes Welsh gold so unique is its rarity. The mines that produce it in Wales are considered "exhausted," meaning that it's now extremely difficult to mine, making it very valuable. The Windsor family has used gold from the Clogau St. David's Mine in Wales — once the most productive gold mine in the country — since the early 1900s.
This makes the unique Welsh gold, which is known for its characteristic pink tint, incredibly rare and expensive. To put that in perspective, Ben Roberts, managing director for the Clogau St. David's mine told ET:
"We've generally been paying anywhere between six to 10 times the value of gold, so you could see that there's an obvious premium there... Recently an auction up here in North Wales for two ounces of Welsh gold went for 30 times its gold value. So if you're paying that for normal gold, say, from South Africa or Russia or recycled gold for example, you'd be paying approximately [$2,700] but this went for close to [$55,000], just in its raw form and in small nuggets."
So yeah, expensive. Fortunately, the Windsors won't be buying wedding bands at market value since they have their own private reserve of Welsh gold, from which, presumably, Meghan's band will come.
So, when did this glamorous tradition originate? Glad you asked. Here's a little history of how how it all started.
The Queen Mother Lady Elizabeth Bowes-Lyon (1923)
The first royal to wear a wedding band made from Welsh gold was Lady Elizabeth Bowes-Lyon, when she married King George VI in 1923. She is the mother of both Queen Elizabeth and Princess Margaret, and she passed on the tradition to both of her daughters. Her Welsh gold band was paired with a sapphire engagement ring with diamond accents, although later she replaced the sapphire ring with a pearl surrounded by diamonds. Hey, it's good to be queen mum!
Queen Elizabeth (1947)
When Queen Elizabeth II married Prince Philip in 1947, she became the second Windsor to wear a Welsh gold band. In her case, this ring was paired with a three-carat square cut diamond engagement ring set in platinum. The diamonds were taken from from one of Philip's mother, Princess Alice of Battenberg's, tiaras. Oh the royals, they're just like us!
Princess Margaret (1960)
The queen's sister Margaret also received a simple Welsh gold band on her wedding day, when she somewhat scandalously wed fashion photographer Antony Armstrong-Jones. Their pairing was considered shocking at the time as she was a royal and he was a non-aristocratic commoner. How scandalous! The couple did eventually divorce in 1978 (another shocking move at the time).
Princess Anne (1973 & 1992)
Princess Diana Spencer (1981)
Princess Diana would continue the tradition in 1981 when she married Prince Charles in their iconic wedding in St. Paul's Cathedral in London. She wore the band with her 12 carat Ceylon sapphire ring, surrounded by 14 solitaire diamonds.
Duchess Camilla Parker-Bowles (2005)
When Prince Charles remarried, it was to his longtime love, Camilla Parker-Bowles. She currently wears a Welsh gold band along with her stunning art deco engagement ring made with a diamond that once belonged to the Queen Mum.
Duchess Kate Middleton (2011)
Like her mother-in-law before her, Kate Middleton also wears a Welsh gold band, as well as Diana's iconic sapphire engagement ring. After Diana's untimely passing, Prince Charles allowed his two sons to each take a memento of their mother's to remember her by. William selected a Cartier watch and Harry selected the ring. However, when Kate and William were engaged, the boys exchanged mementos, as they both wanted Kate to have it. I'm not crying, you're crying!
Meghan Markle (2018)
While her title after marrying Prince harry is still TBD, one thing that has been confirmed is that Meghan too will be wearing a Welsh gold wedding band, which will look oh-so-lovely next to her diamond engagement ring. Prince Harry had it made from two diamonds that once belonged to his mother, which surround a Botswana diamond signifying the time they spent getting to know each other there early in their relationship. Hmm, romance by way of diamonds. Yep, that's officially my new love language.
So, while the exact value of the royals' wedding bands are unknown, with all the rich tradition and history, the safest bet is just to call them priceless.
Check out the "Best of Elite Daily" stream in the Bustle App for more stories just like this!