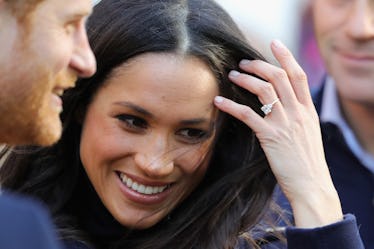 8 Royal Wedding Rings & What They're Actually Worth 
Christopher Furlong/Getty Images Entertainment/Getty Images
Yep, it's official: I have royal wedding fever. Normally, I don't get all fired up about all the comings and goings of the British royalty, but add Meghan Markle into the mix and I can't get enough. Suddenly I'm wondering about every detail of their wedding, including, of course, the rings. As it turns out, when it comes to the Windsors, even something as simple as a gold band is anything but basic. And if you've ever wondered what royal wedding rings are worth, the answer, unsurprisingly, is a lot, because of course a band of regular gold isn't enough — it has to made from very special Welsh gold.
What makes Welsh gold so unique is its rarity. The mines that produce it in Wales are considered "exhausted," meaning that it's now extremely difficult to mine, making it very valuable. The Windsor family has used gold from the Clogau St. David's Mine in Wales — once the most productive gold mine in the country — since the early 1900s.
This makes the unique Welsh gold, which is known for its characteristic pink tint, incredibly rare and expensive. To put that in perspective, Ben Roberts, managing director for the Clogau St. David's mine told ET:
"We've generally been paying anywhere between six to 10 times the value of gold, so you could see that there's an obvious premium there... Recently an auction up here in North Wales for two ounces of Welsh gold went for 30 times its gold value. So if you're paying that for normal gold, say, from South Africa or Russia or recycled gold for example, you'd be paying approximately [$2,700] but this went for close to [$55,000], just in its raw form and in small nuggets."
So yeah, expensive. Fortunately, the Windsors won't be buying wedding bands at market value since they have their own private reserve of Welsh gold, from which, presumably, Meghan's band will come.
So, when did this glamorous tradition originate? Glad you asked. Here's a little history of how how it all started.