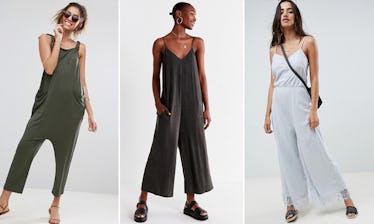 The Lazy Girl Outfit Of Summer 2018 Will Take You Anywhere You Want To Go & Still Feel Comfy AF
I have two style personalities: I'm either unreasonably overdressed or I can't be bothered to put on pants. On my dressy days, I can be found in super high heels and a pencil skirt or a dress that's really cinched at the waist, because when I look good, I feel good about myself. There's nothing better than stepping out on a sunny day in a flowy dress and wedges, with the wind blowing through my hair. If you're like me and don't have a closet full of socially acceptable lazy outfits for summer, I recently discovered these stretchy cotton rompers that feel like pajamas — but don't make me look frumpy or feel dumpy. In these babies, people don't judge you for looking like you just rolled out of bed.
Spring and fall are my favorite seasons because the weather is pretty easy to work with, especially where I live in Los Angeles. Neither are too hot or cold, so my style is usually on point during these months. It's during the sweltering summer and freezing winter that I lose all motivation to get dressed — I usually end up in some old-lady muumuu (which my mom despises) or sweats. But I'm determined to make this summer different.
The only place I really don't care about what I look like is the airport. Before a recent international flight, I searched my closet for the most comfortable thing I could wear. I usually opt for leggings, but I had already packed my favorite ones for the trip. Then, I remembered I just brought home a cotton stretch romper. I stepped into it, slipped on some furry slides, and threw my hair in a topknot. OK, I felt super comfy, but I was super into my look. It felt like, "ugh, it's my day off but I'm so cool, even my frumpy clothes look good." Win!
I survived my 11-hour straight-shot flight and never once felt restless in my clothes. I was able to cross my legs, bend my knees up, and lay down without feeling restricted. It was about hour five when I decided this is what I'll wear all summer long. So, I scoured the internet for more to add to my closet, and here are my favorites.
H&M Sleeveless Jumpsuit, $18, H&M
This jumpsuit's cinched waist keeps the look sleek and cool.
Asos Design Jersey Minimal Jumpsuit with Ties, $29, ASOS
How much fun are this one's jumbo-sized front pockets?
H&M Jersey Jumpsuit, $29, H&M
Black and white never ceases to look chic AF.
Urban Outfitters Cupro Relaxed-Fit Jumpsuit, $35, Urban Outfitters
Besides the trendy wide legs, this romper comes in olive green, which straddles the line between a neutral and a color.
Take The Plunge Black Jumpsuit, $45, Yandy
Summer of side boob? This sexy jumpsuit says yas.
Asos Design Cami Jersey Jumpsuit with Lace Trim and Button Front, $40, ASOS
Look at that lace detailing!
Urban Outfitters Shapeless Wide-Leg Jumpsuit, $59, Urban Outfitters
Try not to melt into this flowy number.
Gap Softspun Short Sleeve Jumpsuit, $51, Gap
Pajamas have never looked so polished.
Smash + Tess The Friday Romper, $119, Smash + Tess
Long sleeves will protect you from overly ambitious air conditioning.
Old Navy Wide-Leg Bouclé-Jersey Jumpsuit for Women, $29, Old Navy
Honestly, this looks nice enough to wear to work.
I told you they were good! Pair your favorite stretchy jumpsuits with a pair of super cool sneakers, trendy fuzzy slides, or summer-ready metallic sandals for the perfect model-off-duty look. And if you're ever caught in a pinch, you can actually even dress up your comfy romper with a pair of black strappy heels, a leather jacket, and dainty gold chains. Plus, if it turns out to be a long night, you can shamelessly roll right into bed wearing your full outfit (just at least try to muster up the strength to wash your makeup off first).
The good news is you'll look incredible even on your laziest days. Could this be your new Monday uniform? Or better yet, your summer-Friday go-to? The bad news is you'll never have an excuse for looking like a hot mess ever again. Sorry, not sorry.