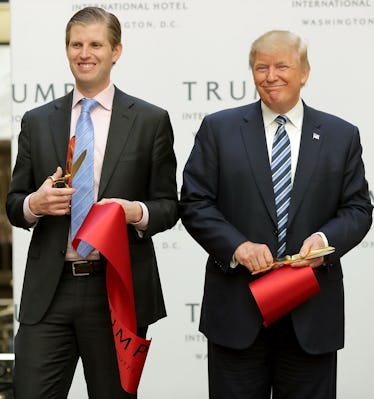 These Donald Trump Quotes About Eric Make Me Wonder About Their Relationship
Chip Somodevilla/Getty Images News/Getty Images
Sometimes I get a little curious as to what President Donald Trump thinks of his children. Afterall, one of them is in the West Wing and two run the family business. When a president has that many kids in such high close-to-home positions, I like to know what's up. These Donald Trump quotes about Eric have me wondering if they're close, like, at all.
I went digging for what the president has to say about his second son Eric, thinking there'd be some insight into their relationship. Eric and his older brother Donald Trump Jr. are in charge of the Trump Organization, at least while Trump Sr. is cozy in the Oval Office, so I figured I'd find a lot of praise or something. Weirdly, I barely found a thing.
We know that Donald Trump is a big fan of some of his kids. If you're looking for Donald Trump quotes about his daughter Ivanka Trump, you'll find loads — and some of them a bit, let's say, inappropriate — but it looks like dear old dad has said almost nothing about Eric (he's not alone on that). I had to do a real deep dive to find just a few, which I guess confirms that Trump is the closest to his eldest daughter.
Obviously, the best place to see how close Trump really is to Eric — and to find his unhinged thoughts — is Twitter, so that was the first stop on my journey.
In December 2016, Trump sent out a pair of tweets expressing how sad it was that his "wonderful son Eric" would no longer be able to raise money for children with cancer. He wrote,
My wonderful son, Eric, will no longer be allowed to raise money for children with cancer because of a possible conflict of interest with...
my presidency. Isn't this a ridiculous shame? He loves these kids, has raised millions of dollars for them, and now must stop. Wrong answer!
The Eric Trump Foundation was founded in 2007 and gave about $1.5 million dollars in charity per year. However, when Trump got elected president, certain charitable auctions were deemed as a "conflict of interest" because they gave access to the first family to the highest bidder. For instance, the catalyst that led Eric to stop accepting funding to the foundation was when they auctioned off coffee with Ivanka. Which means that diplomats from other countries or investors with special interests in White House dealings could get access to the "Trump agenda" through roundabout dealings.
When "coffee with the (almost) first daughter" triggered The New York Times to ask some questions, Eric said that he might close the bidding and eventually closed funding altogether.
But, good news, Trump thinks Eric is "wonderful." Which is contrary to what Michael Wolff, author of Fire and Fury: Inside the Trump White House, claims Trump thinks of his sons.
BuzzFeed reporter Tasneem Nashrulla tweeted a photo of a page from Fire and Fury, and according to Wolff, Trump reportedly does not think very highly of Don Jr. and Eric. In the book, he claims that Trump liked pointing out that they weren't the sharpest tools in the shed. Wolff wrote,
Their father took some regular pleasure in pointing out that [Don Jr. and Eric] were in the back of the room when God was handing out brains.
Wolff did not report it as a direct quote from Trump, and so it could just be his perception of things. There is no way to really know for sure, but there you have it.
Further making me suspect that Trump is not all that close with Eric is a congratulatory tweet that Trump sent out when Eric and his wife Lara Trump gave birth to their first child Eric "Luke" Trump in September of 2017. He wrote,
Congratulations to Eric & Lara on the birth of their son, Eric "Luke" Trump this morning!
That seems a little cold, right? Just on the surface, you'd expect a father to be a little more emotional about his son having his first grandchild. Even more so given the fact that Trump is a pretty emotional tweeter, but this "congratulations" tweet feels pretty reserved.
Maybe Trump and Eric are close but Trump has said so little in an effort to really try and keep the White House and the Trump Organization separate? I don't know, but I hope that me writing this doesn't mean that I shifted something and tomorrow I'll wake up to a Trump tweetstorm about Eric. Although, maybe I kind of want that? It would be a nice change.