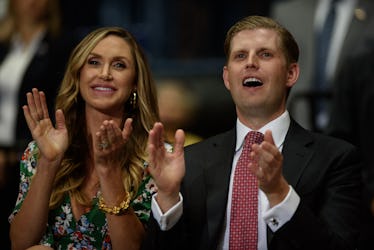 The Story Of How Eric & Lara Trump Met Is Surprisingly Normal
Justin Merriman/Getty Images News/Getty Images
After reports that Donald Trump Jr.'s wife Vanessa Trump had filed for divorce, we also found out that the couple had (so, so awkwardly) been first introduced by now-president Donald Trump Sr. at a fashion show. And so now there's some curiosity buzzing around about how the rest of the Trump offspring and their spouses met. So how did Eric Trump and Lara Trump meet? Was it a classic meet-cute or just as awkward as his older brother's encounter?
But who would have thought? It looks like it was actually a pretty normal exchange. According to a 2016 Fox & Friends appearance, the couple met while out on the town in New York City with friends in 2008. Lara, née Yunaska, said,
We met here in New York. Actually, we were both out one night with friends and being, probably, the two tallest people in the room was really helpful. I think we spotted each other across the room. I was immediately intrigued, and hopefully Eric felt the same way.
I guess being able to see over everyone else's heads is a major turn on.
But height wasn't enough to seal the deal apparently. According to Lara it was quite a while before the pair actually went on their first date. "It took us about three months to go on a date," said Lara. Guess someone wasn't so immediately intrigued. Or, you know, schedules happened.
It's a refreshing change from the story of how Don Jr. and his soon-to-be-ex-wife, Vanessa Trump, met. According to a New York Times interview with Vanessa back in 2006, the pair first met in 2003 when Donald Trump Sr. introduced them at a fashion show — twice. Vanessa recalled, "Donald comes back up to me again, 'I don't think you've met my son Donald Trump Jr.'" She replied, "Yeah, we just met, five minutes ago."
Awwwwwkward.
The pair didn't hit it off then (surprise surprise) but met once more a few weeks later at a mutual friend's party. That second time appeared to be the charm, and the couple got together and eventually tied the knot in 2005.
So it's nice, I guess, that the younger Trump brother had it a little more normal. Trump and Lara might have gotten off to a slow start dating, but when it came to getting married they... also got off to a slow start. Lara explained to Fox & Friends that "Eric wanted to make very sure." Trump corrected her, "Very very sure." So the couple dated for five years before getting engaged and didn't tie the knot until a year after that in 2014.
The couple took a bigger step together first, though: they got a dog two years into their relationship. The pooch is an adorable beagle named Charlie, according to Romper. The pup was also the ring bearer at their 2014 wedding at Mar-a-Lago. Brother-in-law Jared Kushner also had a special part as officiant of the wedding.
In September 2017, Lara and Trump welcomed their first child — President Trump's ninth grandchild — Eric "Luke" Trump. The third eldest Trump child announced the birth in a tweet. He wrote,
.@LaraLeaTrump and I are excited to announce the birth of our son, Eric "Luke" Trump at 8:50 this morning.
I still don't know why the "Luke" is in quotes. Maybe Trump thinks that's how middle names work?
Trump and Lara only have the one child, in contrast to Trump's older brother Don Jr.'s five kids and big sis Ivanka's three. But to think, he might have never happened if either of them were just a couple of inches shorter. Life's a real mystery sometimes, ain't it?