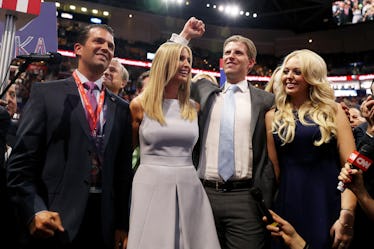 These 6 Eric Trump Quotes About Ivanka Will Surprise You
Joe Raedle/Getty Images News/Getty Images
No matter what your feelings on the first family, it's hard not to wonder what their relationships between the famous Trump children are like. These Eric Trump quotes about Ivanka make so much sense given the family dynamic. All three siblings — Donald Trump Jr., Ivanka, and Eric — seem to be fairly close, and they have a tendency for showing the love on social media.
Eric, 33, is the third child after Ivanka, 36, and he seems to be pretty proud of his older sister. While Ivanka is serving her father's administration as a presidential adviser, Eric has taken on a more backseat role to support his father's presidency, overseeing the Trump Organization as executive vice president alongside his older brother, Don Jr. But he seems to feel pretty confident in his sister's abilities on the political side of things, at least based on what he's said publicly about her. If there's any ill feelings between Eric and Ivanka, it certainly doesn't show. Over the years, he's praised his sister time and again, both in interviews and online.
In July 2016, Sen. Bob Corker, Republican of Tennessee, told MSNBC that he thought Ivanka Trump would make a good running mate as vice president on her father's ticket. "I don't know that I've met a more composed, brilliant, beautiful-in-every-way person," Corker said of Ivanka.
"I agree," her brother Eric said on Fox & Friends the next day. "She's got the beautiful looks, she's smart — she's smart, smart, smart."
In August 2016, Trump, as dutiful son, went on air to explain comments his father had made when asked how he thinks Ivanka would respond if she were sexually harassed. The interview occurred in the wake of allegations that Roger Ailes had sexually harassed employees. "Ivanka is a strong, powerful woman," Trump told MSNBC in explaining his father's earlier statement. "I don't think she would allow herself to be subjected to that."
In April 2017, Eric weighed in on CBS' This Morning on how he thought his older sister would be in the White House. "Well she's beautiful," he said of her. "She's beautiful in so many ways. She's smart, she's intelligent and she's full of class. You know I think that's why people love Ivanka."
During an interview with the Daily Telegraph that same month, Trump said he was "sure" that it was his sister's influence that had pushed the president to conduct airstrikes against Syria in response to a chemical attack carried out by Bashar al-Assad's regime that killed scores of civilians, including many children. "Ivanka is a mother of three kids and she has influence. I'm sure she said: 'Listen, this is horrible stuff,'" he said.
He added that his sister, whom he described as "by [the president's] side in Washington," has significant influence as the president's adviser and daughter because she's not afraid to speak her mind, even when it conflicts with her father's standpoints.
A few months later, in a tweet from October 2017, Eric praised Ivanka's comments regarding criticism of their family, adding, "Very well said @IvankaTrump!"
On Fox & Friends on Feb. 26, Eric Trump discussed his sister after a U.S. Olympic skier had harsh words for her. In a tweet the day before, Gus Kenworthy called out the first daughter's presence at the closing ceremony at the 2018 PyeongChang Winter Olympics, tweeting, "Honestly, tf is she doing here??"
"I think it's disgusting," Trump told Fox News about Kenworthy's comments. "Ivanka is an unbelievable representative of this country, she is so poised, she is so elegant, she's a role model for so many people. ... We should be very proud of her."
Kenworthy's comments bothered him as a brother, he said in response to the host's question. He added that, were it the Obama children, they wouldn't receive the same kind of treatment as Ivanka.
Ivanka has largely reciprocated the love for her younger brother on social media, although there was that one time, back in September, that Ivanka shared a photo of her holding her nephew, Eric's son Luke. In what appears to be an arguably very uncomfortable moment, her caption read, "Cuddling my little nephew Luke... the best part of an otherwise incredible day!" People dragged her for her use of language — which (we assume unintentionally) implied that she really didn't enjoy that moment — and the larger implication that she simply didn't know what the word "otherwise" meant.
Eric routinely posts positive things about his sister on Twitter, too, whether promoting her book or sharing photos of them together. In one shot of them in March at the White House, adding that he missed her in New York. Of course, photos aren't the whole story, but these adorable posts suggest that the younger Trump seems pretty supportive of his big sis.