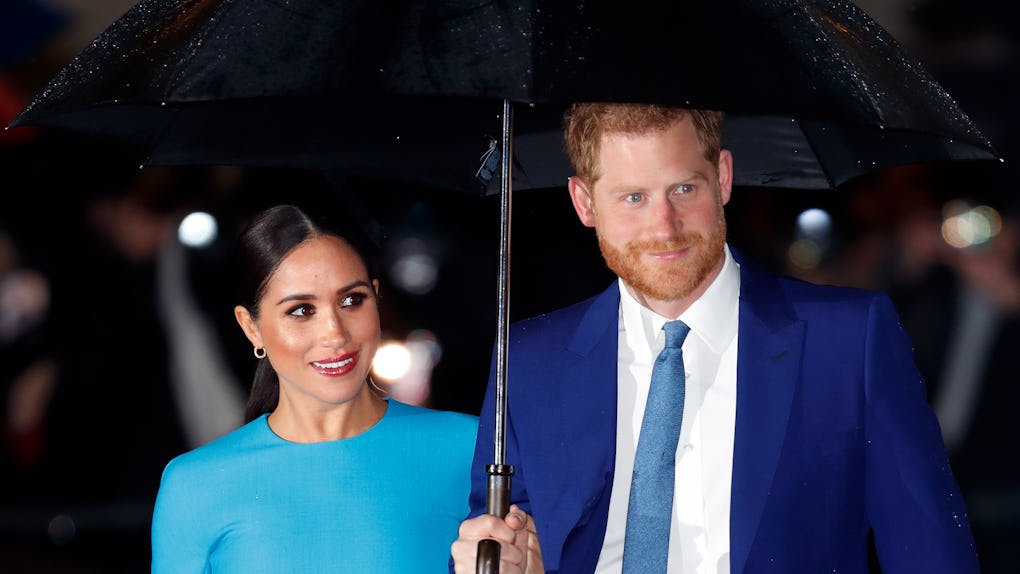 Max Mumby/Indigo/Getty Images Entertainment/Getty Images
These Details About Meghan Markle & Prince Harry's Relationship From 'Finding Freedom' Are Juicy
Christmas came early for Sussex stans — the highly anticipated book Finding Freedom has finally released, and it's packed with juicy claims about a pair of beloved ex-royals. Without a doubt, one of the most exciting aspects of the biography is the countless new details about Meghan Markle and Prince Harry's relationship.
From the first time they said "ILY" to a never-before-discussed paparazzi scandal, the book has no shortage of claims from royal reporters Omid Scobie and Carolyn Durand about the couple's love story. When reached for comment on the claims in this story, a spokesperson for the Sussexes said, "The Duke and Duchess of Sussex were not interviewed and did not contribute to Finding Freedom. This book is based on the authors' own experiences as members of the royal press corps and their own independent reporting."
With that in mind, some of these secrets revealed in Finding Freedom are so darn adorable, royal fans just can't help but hope they're true. Can't get enough info about Harry and Meghan's relationship? Here are some of the must-know details about how they met and fell in love, the unbelievably thoughtful gift Harry gave Meghan, and how she felt about becoming a royal.
They reportedly hit it off instantly.
Meghan was reportedly newly single when she first met Harry in the summer of 2016. The book describes how she had just gotten out of a two-year relationship, and reportedly joked to her friend that she'd love to meet a "nice English gentleman to flirt with." Well, the girl got her wish — because soon after she and Harry spent a magical evening together at Soho House's Dean Street Townhouse.
Reportedly, Meghan called a friend after that first date, and asked, "Do I sound crazy when I say this could have legs?" Harry, meanwhile, reportedly told his friend that Meghan was "the most beautiful woman" he'd ever seen in his life. (No surprise there.)
Harry had no interest in playing it cool, because he'd reportedly already texted her by the time she got back to her hotel room. According to the book, his messages were reportedly brief with lots of emojis — especially the ghost emoji, which he used in place of a smiley. (Was that his clever way of calling her "boo"? The world may never know.)
The duo reportedly enjoyed a second date at Dean Street Townhouse, and a friend reportedly claimed that by the end of that second meeting, "Harry knew they would be together" because "she was ticking every box fast."
"Almost immediately they were almost obsessed with each other," the source reportedly claims in the book. "It was as if Harry was in a trance."
For their next meeting, Meghan reportedly had dinner with Harry at Kensington Palace and toured his home at Nottingham Cottage. NBD, just your standard third date.
That African safari trip was reportedly a major turning point in their relationship.
After their casual hang at Kensington Palace, Meghan reportedly flew back to Toronto, where she was living while filming Suits. Then, mere weeks later, Harry told Meghan he wanted to bring her along on a surprise trip. She reportedly accepted the invitation (duh), flew to London, and they traveled to Botswana the following morning. Just to remind y'all, this was after three dates — I repeat, three dates.
While on their trip, Harry and Meghan reportedly bonded immediately. In Finding Freedom, a friend reportedly claimed that Meghan said at the time, "I've never felt that safe... that close to someone in such a short amount of time."
"By then, they were each already dancing around the idea that this just may be a forever thing," the friend reportedly told the book authors.
They reportedly said "ILY" after just three months.
Clearly, Harry and Meghan were falling fast. In fact, according to Finding Freedom, it only reportedly took three months for them to say "I love you."
As for who uttered those three little words first, Harry was reportedly the one to take the lead. However, Meghan reportedly "immediately" reciprocated the sentiment.
"From there it didn't take long for them to begin talking in non-oblique terms about their future," the authors added.
Meghan reportedly couldn't help dropping hints about Harry.
The Finding Freedom authors revealed that since Meghan and Harry refrained from publicly confirming their relationship early on, she would leave little teasers on social media.
For example, on July 1, 2016, Meghan posted a picture on IG featuring a gorgeous bouquet of peonies with the caption "Swooning over these." The hashtags included #London and #SpoiledRotten, so it def does seem like they could have been a gift from a certain Brit (how romantic, no?). A couple of days later, she posted a pic of a heart-shaped candy with the words "kiss me" on it, and captioned it "Lovehearts in #London." So, yeah. There's no way of knowing for certain whether or not these posts were about Harry, but they were shared right around the time that their first few dates supposedly went down.
Another fun fact from Finding Freedom: Harry reportedly had a finsta under the handle @Spikemau5, which came from a combo of his go-to alias Spike Wells and a reference to Deadmau5, his fave DJ. In the book, the authors claim that Meghan followed that account shortly before their relationship was publicly confirmed.
Their reported at-home date nights are actually relatable.
It turns out that dating a prince isn't all castles and international getaways.
"On many nights, she and Harry curled up in his modest living room, binge-watching TV (Game of Thrones and Breaking Bad were favorites)," the reporters wrote, describing the couple's reported activities during the winter of 2017. "They also had the same taste in films. Fans of Disney, they loved to watch movies like Moana and The Lion King."
Who knew royals and celebrities could have such down-to-earth tastes?
Harry reportedly defended Meghan from invasive photographers.
In January 2017, the couple reportedly stayed at a private resort in Jamaica for Harry's friend Tom Inskip's wedding. Despite assurances that no paparazzi would be on the grounds, protection officers reportedly discovered a photographer who had snuck photos of Harry and Meghan in a steamy embrace on their balcony, and dozens of close-ups of Meghan in a bikini. Reportedly, Harry immediately contacted his communications secretary to make sure the images were never published, and according to Finding Freedom, "they still haven't seen the light of day."
The incident was reportedly jarring for the couple. "Harry was angry and shouting while Meghan was concerned," Scobie and Durand claimed, adding that the duke's distrust of the media dates back to his mother's death. "... Although Meghan had never seen this side of Harry before, she wasn't put off by it. Instead, she was sad to see him so affected."
Harry reportedly knew early on their relationship would last.
When Meghan turned 36, the couple celebrated by returning to Botswana on vacation. Harry reportedly kicked off a steady stream of surprise presents on the plane ride, and one gift was particularly swoon-worthy.
"Just two months after they had started dating, Harry had given Meghan one half of a Van Donna diptych, which depicted a young boyfriend and girlfriend holding hands," Scobie and Durand claim. "He had picked up the $4,500 artwork during a private visit to the Walton Fine Arts gallery in Chelsea, London, and kept the second piece, which simply featured the title of the work, Everybody Needs Somebody to Love, for what would be their first anniversary. It seemed he had always known they would go the distance."
The birthday trip reportedly marked a turning point in their relationship. "On their final day in Botswana they felt more connected to each other than ever — best friends, partners, soul mates."
Harry reportedly worried about Meghan's sacrifices for him.
As their relationship grew more serious, Harry reportedly had concerns about how the demands of royal life would wear on their bond.
"Harry felt guilty that she had to give up so much — her home, her career — to fit into this world," Scobie and Durand wrote. "He was always worried about disrupting her life. Privately he harbored fears about the road ahead. What would the press be like? Would he have to deal with prejudice from more people in his own circle and the institution? He wanted to protect Meghan, to wrap her up and shield her from all the negativity, but he knew that was impossible. He worried about her turning to him one day to say, 'I love you, but I can't live like this.' Meghan assured him she was strong and ready to 'become a team.'"
Time has proven again and again that these two make a fantastic team.