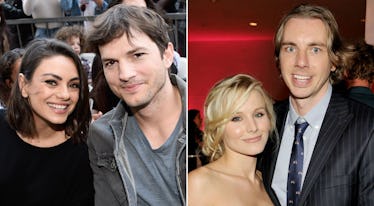 Your Fave Celebrities Are Now Married With Kids, So Get Ready To Feel Old
Alberto E. Rodriguez/Getty Images; Kevin Winter/Getty Images
Do you ever see a celebrity and do a double-take when you find out their age? In Hollywood, it seems like getting older doesn't really exist, but news flash: It totally does, and there are some A-listers who can totally prove it to you. But if some of your fave celebs are growing up, then that means —DUN DUN DUNNN — so are you. And these celebrity couples who are married with kids are going to make you feel so, so old. So break out your finest walker, drink your most expensive bottle of prune juice, and get ready, because we're going to reminisce about the days of old.
But let me just say one quick thing before we knock out this list: These couples deserve a standing ovation, a round of applause, and like, 50 awards just to show how much we appreciate them sticking together year after year. In Hollywood, it seems like celebrity marriages have the lifespan of a hamster. They meet, marry, and break up, basically ruining everyone's idea of true love.
But these couples? Psh. Through thick and thin, through good times and bad, through the stresses of life (AKA children, duh), they're just rolling along, showing everyone what commitment truly looks like. So a big thank you to these beautiful and extraordinary humans from me, a normal average human. I will forever be grateful for you showing us how it's done.
1. Kristen Bell and Dax Shepard
Words will literally never be able to describe the overwhelming love I feel for Kristen Bell and Dax Shepard. They're refreshingly honest and open about how much effort goes into making a marriage work, and the fact that they do it all while being so hilarious is just the epitome of a match made in heaven.
While these two look like they're still in the honeymoon period of their marriage, they are most certainly not a new couple. Bell and Shepard started dating back in 2007 (yes, over a decade ago) and got engaged in 2010 — but refused to marry until the state of California legalized same-sex marriage. When the law did pass, Bell "proposed" to Shepard on Twitter, so there's one more reason you should love them so damn much.
They tied the knot in 2013 and have since had two daughters named Lincoln and Delta (born March 28, 2013 and Dec. 19, 2014, respectively), and now there is no other cooler name combination than that in the English language.
OK, now everybody leave so I can melt into a puddle of happiness and tears just thinking about Kristen and Dax.
2. Eva Mendes and Ryan Gosling
OK, so fine, maybe Eva Mendes and Ryan Gosling haven't been married for that long (they secretly tied the knot in 2016), but the pair have been linked to each other since 2011, which is seven freaking years (and the equivalent of 100 years in Hollywood), so I feel as though they are deserving of a mention. After filming The Place Beyond The Pines, it seems that Mendes and Gosling hit it off and have only had eyes for each other since.
On the baby front, Mendes hid her first pregnancy for a staggering seven months (she mastered the whole hidden pregnancy thing long before Kylie Jenner) and welcomed their daughter Esmeralda Amada on Sept. 12, 2014.
If you're like, wow, that's a long time to conceal a baby, then your jaw will probably drop when I tell you that Eva Mendes completely hid her pregnancy and the birth of their second daughter, Amada Lee, who was born on April 29, 2016. Yep, as in, "Surprise! We had a baby! Oh, you didn't even know we were pregnant?" Basically, what I'm saying is that they are part actor and part undercover ninjas, because concealing a marriage and two babies sounds nearly impossible.
Good job, you two.
3. Mila Kunis and Ashton Kutcher
Watching Kelso and Jackie from That 70's Show turn into a real-life couple is probably the cutest scenario in which two humans met and fell in love. When the show aired, Kunis was just 14 years old and Kutcher was 20, and she revealed that, although they started off as friends, she developed a big crush on Kutcher. Back in 2001, she told People, "I was like, 'Oh, he's so cute; it's the Calvin Klein model!' Then I was like, 'I have to kiss him?' I was so nervous and uncomfortable. I had the biggest crush on him."
Now, flash forward many, many years of friendship between the two co-stars to 2012, when the two were rumored to have started dating. Apparently, that wasn't just speculation, because by early 2014, Kunis was walking around with a big ole' diamond ring on her finger. Cut to March 2014, where the pair confirmed that they were pregnant with their first child, which was all sorts of amazing news in such a short time span.
Can we hear it for Kelso and Jackie right now?
These two seriously rock.
After the birth of their daughter, named Wyatt Isabelle, on Oct. 1, 2014, the couple got married in 2015, then welcomed a son named Dimitri Portwood on Nov. 30, 2016.
I mean, can you even believe that these two gorgeous humans have been together for almost a decade and have two freaking children together? #Goals is all I'm saying.
4. Kerry Washington and Nnamdi Asomugha
Did you know that Scandal actress Kerry Washington is a mom? Did you even know that she was married in the first place?! She keeps the details of her personal life as low-key as possible (so very Olivia Pope of her), and didn't make a big scene when she married San Francisco 49ers cornerback Nnamdi Asomugha back in the summer of 2013. She also confirmed her pregnancy in October of the same year, right before a performance on Saturday Night Live, but only because Washington knew the audience would notice her growing belly, and, according to People, "didn't want the focus to be on whether or not she has a bump."
She welcomed her daughter, Isabelle Amarachi, on April 21, 2014, and, just two years later, welcomed her second child, a son named Caleb Kelechi, on Oct. 5, 2016.
She's been married for five years. She's a mother of two. And you probably had no idea, because Kerry Washington is basically the real-life version of her fictional TV character.
We've been Poped, y'all.
So there you have it, folks. Eight beautiful celebs who are married with kids, yet look like they haven't aged a bit. Hollywood is truly a mystery to me.