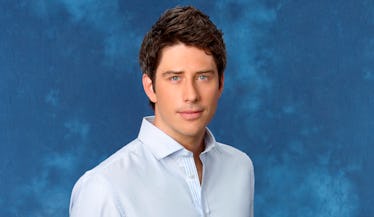 These 'Bachelor' Spoilers For Arie's Season Have Us Pumped For The Premiere
ABC/Craig Sjodin
If you're a loyal but not-so-patient member of #BachelorNation, chances are you're probably chomping at the bit to find out as much intel about the upcoming installment of the franchise before it kicks off on New Year's Day. Bachelor spoilers for Arie's season are starting to swirl around and now that more and more info, interviews, and clips are being released about Season 22, we're honestly even more excited to tune in. Words of warning: Do not read ahead if you don't want spoilers about Season 22 of The Bachelor.
Sure — The Bachelor: Countdown to Arie gave fans some insight into what we can expect for Season 22. The Dec. 11 preview episode was like an amuse-bouche designed to whet our appetites for the entrée that is Arie's journey to a possible proposal. Not only did Arie continue to remind the audience that he was in the right place to settle down (we heard you, buddy) and he was ready for his "own love story," we were given a sneak peek at the ladies who could potentially be serious contenders as the show progresses. Professional photographer Maquel, Raven Gates' BFF Tia, nanny Bekah, nurse Nysha, taxidermy enthusiast Kendall, restaurant owner Marikh, and realtor Caroline all got early introductions before the big premiere. Hmm. Perhaps we should keep on eye on them for the future?
In a recent interview with PEOPLE, Chris Harrison revealed his "Top 5 Contenders for Arie's Heart." The thing is that Chris was actually there — he's not just a Bachelor "expert" with an opinion, he's literally the host of the show. We don't expect him to fully give anything away, but if you cross-reference his picks with that of the women featured in the preview he also points to Kendall and Bekah. "She's quirky and cute," Harrison said, when it comes to Kendall's personality. "She has a thing for taxidermy and she plays the ukulele. But she's highly intellectual, especially when it comes to love. She's a bit of an underdog." As for Bekah? "There is something about this girl's energy that blows Arie away and he is captivated by her. They have this chemistry that gets under his skin." In addition to them, Harrison mentions Chelsea, Bibiana, and Seinne.
The trailer for Season 22 gives some major clues as to who gets screen time this season, and single mom Chelsea sparks some drama in the clip. "I'm making bold moves. Because being a single mother, I deserve more time than others," she tells the other women. "I'm not a b*tch, like, that's the thing. I'm a mother. And I have to tell you guys straight up, I'm pulling Arie aside first." Seinne is featured prominently in the trailer, as is Krystal — who at one point admits she's "falling in love" with Arie. It looks like there's some friction between her and the other ladies in the mansion and we can only guess that if she's saying the L word, she probably gets a rose in at least the first episode. But this is The Bachelor and when it comes to emotions, sometimes time isn't even a factor. Oh — there's also a blink-and-you'll-miss-it hot tub moment between Arie and what looks like Bekah (being the only one with short hair really is a clear giveaway), so we'd bet our last rose that she's not getting eliminated any time soon.
#BachelorNation can also always count on Reality Steve for his spoiler-tastic reporting. The writer/podcaster is already weighing in on the premiere and his Twitter is chock full of stealthy photos of dates on the show's horizon.
Arie has already admitted that he fell in love with two women, so this season is sure to keep things interesting. While you wait to watch all the romance and drama begin to unfold on Jan. 1, we don't blame you for over-analyzing Arie's interviews and using your eagle eyes to dissect the trailer. #BachelorNation means business.