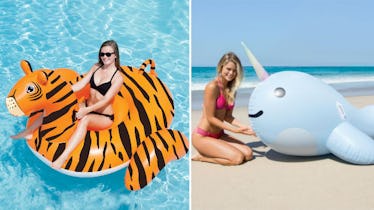 The Best Pool Float To Get This Summer, Based On Your Favorite Animal
You've probably seen hundreds of pool floats you want in your life this summer. They're sold in all of your favorite stores, because inflatables are essential for beach getaways, lazy summer hangs with your besties, and all of your pool selfies. You need to get your hands on at least one, but with an endless amount of options, it can be pretty overwhelming picking out the right one for you. Can't we have them all, though?! If you're an animal lover, the decision process should be a whole lot easier. This list of animal pool floats will seriously speak to your soul, and you'll be floating in style in just about no time.
Whether you're a cat lover, zebra fan, or into mystical creatures like unicorns, there is a pool float that's ready to take on summer with you. By now, you know exactly what your favorite animal is. You've confirmed it with many personality quizzes taken over the years, and besides, we've all chosen our Harry Potter patronuses, right? So, the decision has already been made for you. Now, all you have to do is choose your pool float from these 10 options. Get ready to make a splash in style.