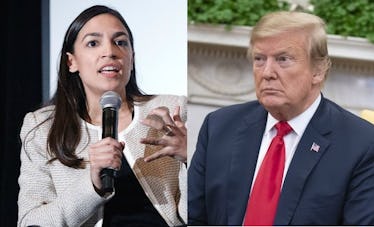 Alexandria Ocasio-Cortez Isn't Shy About Calling Out Donald Trump In These Quotes
Lars Niki/Getty Images Entertainment/Getty Images & Pool/Getty Images News/Getty Images
At this point, tensions between President Donald Trump and Democrats have reached an all-time high. As Trump continues to fight for his border wall, certain Democrats haven't been shy about airing their frustration with the president, and Alexandria Ocasio-Cortez's quotes about Donald Trump prove that. Watch out President Trump, because this congresswoman will not be silenced.
During the 2018 November midterm elections, 29-year old Alexandria Ocasio-Cortez won her bid for New York's 14th district, making her the youngest woman to ever serve in Congress. During the election, she beat out Democratic opponent Rep. Joe Crowley, who held the seat for decades. While fellow politicians might have underestimated Ocasio-Cortez initially for her age, she's proven to be a valiant force in politics, and has given us an inside look into the goings-on at Capitol Hill. Since her swearing-in on Jan. 3, Ocasio-Cortez has worked with Congress to address changes that need to be made within the United States, and a lot of it has to do with a certain world leader. Of course, she's one of a few Democrats who has openly criticized Trump's politics, but leave it to a millennial to throw shade in a subtle, yet brilliant way.
What does AOC have to say about Trump, you may ask? Well, she's certainly not beating around the bush.