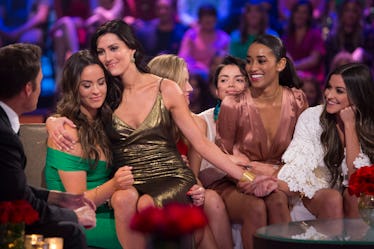 'The Bachelor' Director Reveals 8 Secrets Even The Biggest Fans Wouldn't Know
ABC/Paul Hebert
Do your friends tell you you're "celeb obsessed"? Do you follow your favorite celebs' every move? Know their Instagram histories so well that you can rattle off their inner circle by name and IG handle? If yes, Elite Daily's new series, SideClique, is just for you. We're bringing you everything you've ever wanted to know about the people living their lives right alongside our favorite celebs.
You may think you're seeing everything on The Bachelor, but you'd be surprised by how much is going on behind the scenes. To get the full scoop on what's really going down when the cameras stop rolling, Elite Daily spoke with Ken Fuchs, a veteran director of The Bachelor, The Bachelorette, and Bachelor Winter Games. Fuchs has been around the iconic ABC franchise since its early days in 2003, and he has years of experience dealing with dramatic contestants, exotic locations, and suspense-filled rose ceremonies. Fuchs' behind-the-scenes secrets about The Bachelor will leave you shocked, so make sure you're sitting down.
Are you ready, Bachelor Nation?
1. No, The Bachelor isn't scripted.
Unlike other reality shows (like The Hills), Fuchs insists that the drama fans see on The Bachelor isn't scripted. ABC's large team of directors, producers, location scouts, and other crew members pick locations for each episode's activities — the rose ceremony, where any dates will take place, etc. — and figure out the placement of the contestants and how to light everything, but everything that happens once the cameras start rolling is natural. Fuchs says, "As opposed to a scripted show where you'll go into the stage and say, 'We're shooting these scenes and this is what the actors are going to say,' we go in knowing basically what the scene is, but we don't know exactly what's going to happen. And that's sort of the fun. That's really very much the fun of it, is the spontaneity."
He continues, "We just want to add to the story — tell the story, add to the content, make it beautiful, make it compelling, and also make sure that we don't get in the way of the reality of what's happening with the cast. Because these are real people having real experiences and real emotions, and the less we make it about being on a TV show, the better."
So, there's your official answer, Bachelor Nation. There are no producers in Becca's ear telling her to do this or say that; everything you see on TV is the real deal.
2. The crew tries to give contestants privacy when they really need it.
This may seem shocking, but The Bachelor's cameras aren't rolling 24/7. Of course, the contestants have to sleep and eat, and the crew consciously tries to give them space when they need it. "There [are] times when we put the camera down ... We're not in their face all the time," says Fuchs. The director stresses that the crew's ultimate job is to make the contestants feel like they're not on a reality TV show, so having cameras constantly follow them around (even during the most mundane of tasks) would undermine that goal.
Plus, who wants to see 20 guys eating sandwiches and chatting about the NFL games they can't watch in the mansion? Not me.
3. The plans for an episode change all the time.
If you think being on The Bachelorette is hectic, imagine being a member of the crew. Fuchs says that even though there's a plan in place for each episode — the producers and directors "come up with a schedule for the entire season" of dates, activities, and travel locations — things can switch at the drop of a hat. "Everyone knows, all the time, that things change," Fuchs says. "So we'll have a plan going in, and then we might say, 'Oh, we're not going to do this now, we're going to do this.' Or, 'We're going to go in this direction and we're going to head over to this beach instead of this beach.'"
Luckily, many of the crew members who work on The Bachelor and its sister shows have been with the franchise for years, so they all understand "the language of the show" and are able to transition to a new plan very quickly. "It makes us able to be very nimble," says Fuchs.
4. The crew didn't see Arie and Becca's breakup coming, either.
When Fuchs finished filming Arie's season of The Bachelor, he didn't think anything was amiss with Arie and Becca's relationship. "From my level of involvement in their inner workings and their lives, it was a normal proposal ending as we normally have," he says.
When "Arie was in contact with the producers" about his conflicting feelings "weeks or months later," his sudden change of heart came as a total shock. Fuchs didn't shoot any of the aftermath (as in, that devastating breakup scene), but he returned to direct the After the Final Rose special, and he insists that Arie and Becca's emotions were very, very real. "Obviously that does happen. It happens in real life too. People go out with someone and they sometimes, you know, change their minds," he says. "I'm always surprised when people think that something has been construed when in fact, this is what's really happening and we're just sort of figuring out how to deal with it."
5. In totally unsurprising news, everyone is obsessed with Becca on her season of The Bachelorette.
Fuchs just finished shooting Becca's season of The Bachelorette, and he hinted that there's going to be quite a race for Becca's heart this season. He says, "It's terrific. She's a great person, really funny and bright. The guys are responding really well, and we're having a very successful season so far. It's nice to go through with her, too, after what she's been through. And it's nice to see her, you know, have a chance at this."
"Responding really well"? I'm hoping this means that every single dude is in love with her and that the rose ceremonies in Season 14 will be extra dramatic.
6. You're going to love Becca's season.
Of course, Fuchs didn't spill any specific details about Season 14, but he did hint that Bachelor Nation is going to absolutely love what happens. "I think they were rooting for her, liked her to begin with, and after what happened with Arie, I think viewers are really on board to see her get this second chance," Fuchs says. "And I have to say, she's making the most of it. You'll be very pleased with this season."
Becca gets engaged at the end of The Bachelorette, so now I'm desperate to know who the lucky guy is. She deserves to find happiness, you know?
7. The crew loves those Bachelor weddings, too.
Fuchs' favorite part about being with The Bachelor franchise for 34 total seasons? The weddings. Fuchs admits, "I think going back to Trista and Ryan, in some ways, that was sort of the holy grail for me, because I was sort of like, 'Wow, this really does work. This is an amazing thing,'" he says. "And 10 years later we went back to Colorado and did that 10-year renew their vows special ... I got goosebumps seeing her come down the aisle again and just reliving that wedding from 10 years earlier, just thinking back on everything the franchise has meant to so many people and to me and my life."
Aww. We all love the drama, but at the end of the day, we watch The Bachelor to see people be happy and fall in love. It's nice to know that despite the crew's ridiculously stressful jobs, they love the happy endings, too.
8. "Authenticity" is the key to the franchise's success.
After all these years, you would think that The Bachelor and its sister shows would have gotten a little stale. I mean, you can only have so many rose ceremonies, right? But according to Fuchs, as long as the show remains "authentic," it will continue to resonate with viewers. He says, "What you see and what happens, as much as possible, is really what they're thinking and feeling. Because that's what makes the show successful and that's what makes it ring true to viewers ... I think when viewers feel that it's over-produced or manipulated somehow, and it doesn't ring true, and it doesn't feel authentic, that they're less likely to stay with that show. And those are less popular."
As long as The Bachelor keeps doing what it's doing, I know I'll be watching. Becca's season of The Bachelorette airs on Monday nights at 8 p.m. ET on ABC.