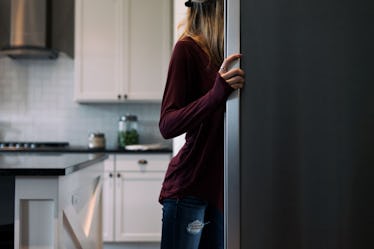 Your Midnight Snack Might Be Ruining Your Sleep Schedule If It's One Of These 7 Foods
It's 10 p.m. on a Tuesday night — where are you and what are you doing? If you're in the kitchen, standing in front of an open refrigerator contemplating life and what to snack on before bed, same. I'm a grazer myself, and for some reason, right before bed, the snack attacks are so much worse than during the day. Sometimes I have enough self-control to pull myself away from the junk food drawer, but the times I do give into my cravings, I'm usually indulging in foods that make it hard to sleep, like spoonfuls of mint ice cream or pieces of chocolate. So I guess it's true what they say: You are what you eat — or, at least, your sleep cycle is.
What you graze on before bed could potentially sabotage your entire night's rest, and if you think about it, there are a ton of foods that can help you sleep better, and even foods that affect your dreams, so it totally makes sense that what you eat could have the opposite effect on your circadian rhythm (aka your biological clock controlling when you snooze and when you wake). In fact, experts actually warn against eating too close to bedtime at all, because food is fuel that gives you energy, and when it's time to wind down and clock in some much-needed shut-eye, the last thing you want to do is spike your blood sugar levels and kickstart your digestive system.
Still, sometimes you're just flat-out hungry and need to nibble on a little something to curb a ravenous midnight craving. That's totally fine — you should always listen to your body's hunger cues — but when it comes to sleep quality, what you eat matters just as much as when you eat, so what's off-limits? Here are a few food groups to avoid at night.