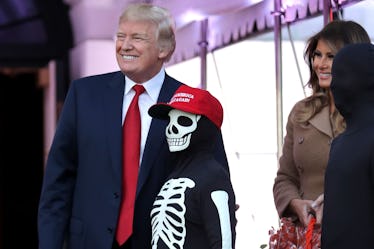 These Trump-Inspired Halloween Costumes Revisit His Wildest Moments
Chip Somodevilla/Getty Images News/Getty Images
Well everyone, the moment we've patiently waited for has finally arrived: it's Halloween season. So, for those who like to incorporate current events into their spooky attire, these Donald Trump-inspired Halloween 2019 costumes might be the perfect choice. Whether you want something funny or just want to prove you're up-to-date on what's happening in politics for Halloween this year, this will have you covered.
Since Donald Trump's inauguration in January 2017, there have been a number of different Halloween costumes featuring the president, his weird faux-pas, and his most memorable mistakes. But while some people may choose to dress as Trump in his traditional suit-and-tie look, others might like to think outside the box when it comes to dressing up as this controversial figure. Thankfully, this out-of-the-norm president has given everyone a whole lot of options when it comes to costume ideas. Trump tweets? Check. Weird puns? Double check. I'm not even getting into impeachment-inspired costume ideas. The state of American politics might be the scariest thing you can dress up as in 2019.
Well, you're in luck, because I've compiled a list of four Trump costumes for 2019 that are not only relevant, but will warrant a laugh from your friends.