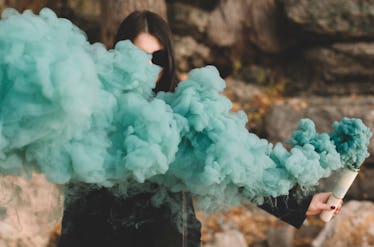 These 3 Zodiac Signs Will Have The Worst Fall, But Winter Will Be Better
There's no doubt about it: Summer 2018 was one wild and terrifying ride. With several planetary retrogrades happening at the same time as an explosive eclipse season that had us hiding for cover, this wasn't your average summer. Instead of feeling high on careless freedom and positive vibrations, our cosmos were rattling our cages and asking us to rise to the occasion. If you're like me, you've been waiting for autumn with bated breath. However, just because the seasons are changing doesn't mean that the complications are over. In fact, these zodiac signs will have the worst fall: Taurus, Aquarius, and Pisces. But don't let this news bring you down, because winter will be so much easier.
The following zodiac signs should think of fall as a time for change, introspection, and spiritual healing as they begin to receive the rewards of their hard work in the winter. As the sun travels through Libra, Scorpio, and Sagittarius, we enter a period of finding balance, intensity, and adventure in the world around you. However, there are astrological occurrences that could throw these signs for a loop, making the process far more personal and far more frustrating. But, as I said before, it's all leading you toward a better reality, so hold on tight and do your best.
Taurus: You May Have Trouble Finding The Beauty In Everything
As of October 5, Venus — your ruling planet — will enter a confusing, spiraling retrograde of its own. Because this planet is responsible for romance, love, aesthetic, sensuality, and prosperity, you might have trouble finding these things around you, making you feel less than pleased with your surroundings. The fact that this retrograde also takes place in Scorpio, your opposite sign, and radiates energy throughout your seventh house of partnerships, makes this a particularly challenging time for your love life and your close friendships. If you're in a relationship, you might experience conflict that is new to your bond. If you're single, you might find it more difficult to meet someone who clicks with you.
However, this retrograde ends on November 16, meaning that you'll begin winter with a refined understanding of what's important to you and a strengthened perspective of life.
Aquarius: You Could Be Going Through Lots Of Internal Change
Revolutionary, electric, and life-changing Uranus — your ruling planet — has been in retrograde since August 6, 2018. Creating instability in your fourth house of home, family, and core values, you're experiencing change that starts deep within, affecting one of your most intimate areas of life. While Uranus is normally responsible for exerting change externally, its retrograde will shift its influence over to your internal world, making you an unpredictable fireball. This could result in a change in your home atmosphere, conflicts with family, and a rebellious deviation in your usual attitude.
Luckily, this retrograde ends on January 6, 2019, just in time to allow these changes to launch a new and exciting adventure for you in the winter.
Pisces: You're Going Through A Major Period Of Resurrection
Chiron, ruler of your deepest trauma and your lifelong goal to heal from that trauma, has been in retrograde since July 5, 2018. As of September 25, this retrograde enters Pisces, turning its attention on you. This will shine a light on your wounds and cause your shadows to float to the surface. The pain of your past and the issues you have yet to sort out will be at the forefront of your mind, where you'll have to do your best to overcome your fears. As dizzying as this experience might be, Chiron is here to heal you and hold your hand every step of the way. Remember that healing is often a dark process and it requires you to sort through uncomfortable baggage. You got this.
When this retrograde finally ends on December 9, 2018, just in time for winter, you'll metamorphose into a stronger and more liberated person. Spend the upcoming season fearlessly spreading your wings, because after so much introspection, you absolutely deserve it.