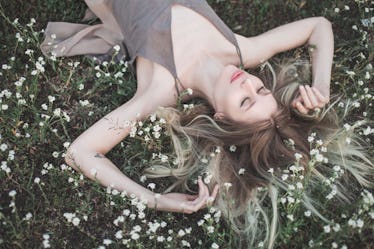 These 3 Zodiac Signs Will Have The Best New Moon In Libra 2018 & They'll Feel So Serene
Whenever you're feeling overpowered, stressed, or unhappy with your progress, trust that there will always be an upcoming new moon to rejuvenate your universe. If a fresh start sounds appealing right about now, mark October 8, 2018 on your calendar. As the sky darkens to allow the stars to shine bright, the new moon in Libra will arrive to replenish your energy and neutralize your perspective. For some of us, this cosmic event will be unbelievably meaningful, especially when you consider that these zodiac signs will have the best new moon in Libra 2018: Gemini, Cancer, and Libra. The luck will infuse your world just as deeply if any of these signs happen to be your rising sign.
According to the lunar cycle, a new moon is a point of release, reset, and renewal. If the lunar cycle reflected the growth of a flower, the new moon would be the moment in which the seed is first planted. As the moon waxes, that seed germinates and grows, and on the full moon, that flower blossoms. This perpetual cycle never fails. When the new moon in Libra infuses your world with its unmistakable magic, it will be time to plant another seed.
Gemini: You'll Feel So Artistic And Inspired To Create
If you've been feeling uninspired, bored, or unimaginative, the new moon in Libra will light a fire in your soul that cannot be stopped. Taking place in your fifth house of fun, pleasure, and creativity, this new moon is about diving into self-expression and participating in the playground that is the world. It's time to entertain your wildest fantasies. Put a paintbrush onto a canvas. Put a microphone in your hand. Put a pen onto paper. Allow yourself to explore your feelings through creative and artistic expression.
Don't think about what the critics may think. Instead, consider how wonderful it feels to be creating art the way you did as a child. Back then, you had no concept of "good" or "bad". All you knew was the joy that creating brought you.
Cancer: You'll Feel Safe And Sound In Your Own Skin
The moon is your ruling planet in astrology. Every single phase of the lunar cycle affects you on a deep and intrinsic level. Because this new moon will take place in your fourth house of family and the home, you will feel realigned on every level imaginable. Due to the fact that this astrological house also happens to be your ruling house, its energy matches yours seamlessly.
It's time to get reacquainted with your most intimate and personal territory. Spend time with your closest family. Indulge in some well deserved rest. You have reason to lavish in your own private world. Perhaps this is an opportunity to redesign your living space. Maybe this means taking a well-deserved break from the hustle and bustle. Listen closely to your heart and do whatever it needs.
Libra: You've Got All The Power Of The Moon On Your Side
Get ready to embark on a beautiful and empowering journey when the new moon lands its sparkle in your first house of the self. This lunation is about releasing yourself from all the negative weight in your life. It's about forgiving yourself for the person you've been in the past. Now's not the time to linger on what could have been. It's time to thank yourself for all that you've gone through, because it's made you into the beautiful and resilient person that you are.
Take time to consider your next move. Who will you become? Where will you go? What do you want to accomplish? Your heart is immensely powerful right now. When it wants something, it stops at nothing. Find your passion and ride with it.