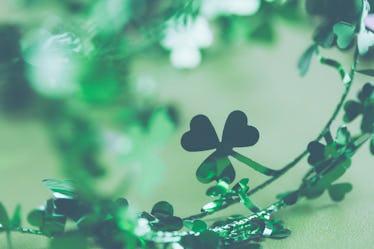 These 3 Signs Will Have The Luckiest St. Patrick's Day, So Kisses All Around
St. Patrick's Day is just around the corner, and if you're not already excited, you should be. Regardless of whether you're Irish or not, this is a holiday everyone looks forward to all year long. Between pitchers of green beer, shamrocks dazzling street corners, leprechauns making mischief in our lives, and extraordinary parades full of debauchery, what's not to love? And if you're wondering whether good fortune is headed your way, these three signs will have the luckiest St. Patrick's Day: Aries, Cancer, and Sagittarius. If you're any of these signs, you just might be the one who discovers a pot of gold at the end of the rainbow (or, at the very least, maybe you'll get kissed).
While this holiday has its historical roots in Irish Catholicism, I think most of us can agree that luck is in the air on St. Patrick's Day. You rummage through your closet to find some green articles of clothing, round up your best buds, and hit up the most Irish bar in your neighborhood. Memories are made, trips to the Emerald Isle are planned, and everything just feels a whole lot more magical. If you're an Aries, Cancer, or Sagittarius, that magic is about to make some serious waves in your life.
Aries: Irish Dance Your Way To Success
Buckle your seatbelt, Aries, because on Mar. 17, your career is about to take you all the way to the next level. Mars crosses your mid-heaven, and you're going to feel so confident in the workplace that you'll be able to accomplish anything. Something rewarding is bound to happen for you, and it could mean a promotion, a salary raise, a project of yours doing extremely well, or even just a client giving you rave reviews.
This victory is going to mean a lot to you on a personal level. You may value good customer service, care very deeply about your client, or feel proud that you were able to impress your boss. You're gonna feel inspired to work even harder after this momentous day in your career, so cheers to that, Aries!
Cancer: Life Is A Four-Leaf Clover
On Mar. 17, Mars will shower your seventh house of partnerships with love and prosperity. You'll feel like you're floating beneath your feet, Cancer! This astrological move is going to bless your career and your personal life, making this a day full of possibility.
You're going to feel pulled to make an impression on the people around you — to compliment them, to become closer to them, to make a serious connection. A spark may form between you and someone beautiful, and who knows what romance may ensue? You also could make an incredibly beneficial business connection that will do wonders for your career.
With your enchanting St. Patty's Day aura, you're definitely not going to want to stay home. Get out there and mingle with some new faces, Cancer. Don't hold back.
Sagittarius: Gold Coins All Around You
Mars moves into your second house of finance on Mar. 17, Sagittarius, which mean some serious gains are headed your way. Your hard work lately is about to pay off, and it'll all feel so worth it. You might get an unexpected check in the mail, a bonus at work, a lot more commission than you were expecting, or even a financial opportunity you won't want to miss. With your wallet swelling up on St. Patty's Day, you're living the dream.
This money has arrived at an important time, as you've probably been thinking about embarking on a new business venture, investing in some college tuition, or even just going on a nice vacation. With all this money falling into your life, all signs point to: Go for it!