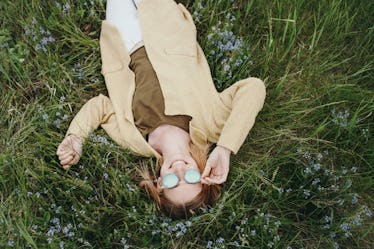 March Will Be The Best Month For These 3 Zodiac Signs, Here's Why
I've always thought of March as a month that sparkles. When it begins, spring is just around the corner, and if our spirits have been lingering in the dirt, it's now time for us to bloom into some gorgeous flowers. We're still enjoying the slow, mystical vibrations of Pisces season, the last sign in the zodiac calendar, before we embrace the fast-paced and feverish yearnings of Aries. During winter, we hibernate. Once spring commences, we reawaken. If none of this is enough to get your blood flowing with excitement, pay closer attention because March will be the best month for these zodiac signs: Cancer, Virgo, and Pisces.
While March is full of seasonal and astrological transformation, it's also a month in which we'll experience not one but two planetary retrogrades: Jupiter on Mar. 8, and Mercury on Mar. 22. If you're at all familiar with what the universe does to us during retrogrades, well, you'd know that it's not great. Aspects of our lives that normally run with ease are now full of troublesome bumps in the road. Comforts we tend to rely on are likely to be withheld from us. Seeing eye to eye with someone proves all the more difficult. However, if you happen to be a Cancer, Virgo, or Pisces, these retrogrades won't prevent you from having a glorious month.
Cancer: Your Career Will Be A Magic Carpet Ride
Your ninth house of adventure and travel is all lit up like a bright neon sign that spells out "awesome." The Sun in Pisces happens to be responsible for some of that light, which signifies prosperity in every aspect of your life. Money will flow toward you like a river that cannot be stopped, Cancer. Your career will take you beautiful places and you'll fully embrace the exciting ride you're about to embark on. Perhaps you'll have an opportunity to go on a business trip that shakes you out of your monotonous routine. Maybe there will be a job opportunity for you in another country. Perhaps a client of yours will be a fascinating character that infuses your life with culture. You'll be having such a great time, you won't even feel pressed to look at the time and calculate how many hours are left until you clock out. Income will appear in your bank account and you might not even remember having worked all that hard.
Let March be the month you accept all your opportunities, no matter how much they push you out of your comfort zone. You won't regret it.
Virgo: Love Is All Around You
Dreamy and romantic Neptune is infusing your life with love, Virgo. Your heart is full and if you're already in a relationship, you'll feel pulled to show your S.O. exactly how much they mean to you. This month is a great time to surprise your partner with an adventurous date, give them a thoughtful present, or at least just shower them with a little more attention than usual. If you're single, you'll be so filled to the brim with romance that everyone will notice the glow, including potential new lovers.
You'll be especially attracted to people who are in-tune with their artistic and spiritual sides, wanting to glean some of that magic yourself. You're definitely going to make some new friends this month, regardless of what ends up happening in your love life, Virgo. Use this month to really get out there and connect. Don't sit at home and hide. The world needs to see you!
Pisces: Your Needs Come First
It sure is a great time to be a Pisces. Not only are you having a great March, but you also had an exciting February. Reel in all these good vibes, Pisces. Embrace them with full force.
The majority of the planets in your chart are situated on the eastern side, which signifies a powerful period of independence. You're normally a selfless giver, Pisces, always eager to please others, even if it comes at your own expense. Well, the planets are here to rearrange your values for a little while, asking you to love yourself before you love anyone else. Without your generous soul, the world may fall apart. However, you cannot be truly generous unless your needs have been met first. Think of this month as a time where you're allowed to do whatever you want, whenever you want, regardless of what people think. Think of your most outlandish dreams and your most ridiculous desires, then figure out a way to make them happen. Right now, you need to set boundaries with others and nurture yourself. It's gonna be a wild ride, Pisces.