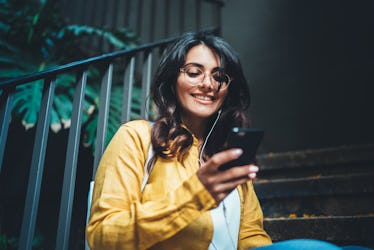 Just FYI, These 3 Personality Types Make The Best Texting Partners Ever
Shutterstock
Let's just take a moment of appreciation for the great texters of the world, shall we? In this day and age, the ability to initiate and maintain a fun, flirty, thought-provoking text convo is a major asset when it comes to dating. And let's face it — not everyone has that skill. The Myers-Briggs personality types who make the best texters in relationships happen to have a few traits in common: they're generally outgoing, insightful, and conscientious. Not everyone values texting in their relationships (looking at you, ISTP), and it's totally OK to prefer other modes of communication. That said, if you're someone who not only enjoys exchanging a little digital banter but craves that kind of connection, then you'll want to keep an eye out for certain personality types.
It's natural to assume that Extroverts would generally be better texters than Introverts, and while they do tend to get their energy from interacting with others (rather than turning inward), that's not always the case. When you consider that texting can make it easier for a shy or reserved Introvert to be authentic and put themselves out there, it's easy to see why they might actually be great texters. While Thinkers tend to use texting merely as a practical tool for straightforward exchanges (like clarifying or confirming the details of your plans), Feelers are more likely to use texting as a way to gain emotional intimacy. It's also worth noting that Perceivers, who tend to be more spontaneous, may surprise and delight you with their unexpectedly romantic messages, Judgers are more geared toward structure and planning, and therefore may be more consistent in their texting habits.
What makes an amazing texter is obviously somewhat subjective — because every person has their own individual preferences in terms of the frequency and nature of their digital communication. That said, there's no denying that the following personality types straight-up crush the texting game in relationships.