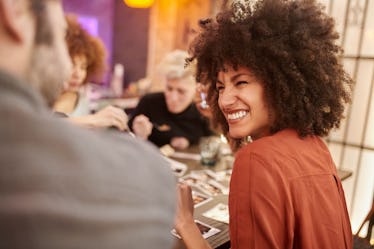 These 5 Myths About Extroverts Might Really Surprise You
Consider what comes to mind when you think of someone in your life who's extroverted. This may be a close friend who's always the life of the party, and thrives when they're around other people. This friend also might come across as loud when she's flirting with a crush. In reality, there are some myths about extroverts and their personalities floating around that aren't in line with what being an extrovert actually means.
According to Business Insider, whether we are introverted or extroverted has more to do with the effect other people have on our energy levels, and the ways we recharge after being social, than it is an indicator of our personality traits.
As counselor David Bennett tells Elite Daily, "Extroverts generally get their energy from being around others and interacting socially." That's how they charge up and feel good. Being social doesn't leave them feeling exhausted or in major need of alone time like it can for an introvert.
While introverts are easily stimulated by social interactions and need time to recharge, extroverts feel lively being around people and find that alone time leaves them more drained. According to Forbes, many of us relate to someplace in the center of the scale. That's called being an ambivert. Interesting, right? So really, when you figure out where you fall on the introvert/ambivert/extrovert scale, it can offer a really helpful guide to your own self-care and even the way you plan your weekends.
The differences in our personalities are nothing short of fascinating, don't you think? So, let's please not sell each other short, and bust some of these old school myths about what being extroverted really means.