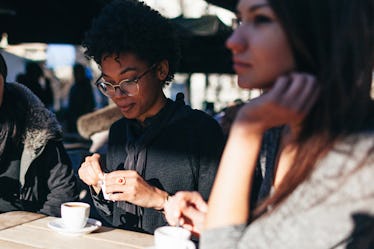 Experts Reveal How Introverts Can Make Small Talk Less Painful & More Meaningful
Making idle conversation with people is a part of life, whether you enjoy small talk or not. If you're in line for the bathroom at a party, at a work event, or even in the elevator with that one neighbor you secretly can't stand, chances are, an opportunity arises where you have to chat about the weather, the news, or something equally trivial. But if you're an introvert, these types of conversations can make you sweat a little (or a lot). So how can introverts make small talk less painful? Is it a necessary evil they'll always have to endure, or is there really a way to make it all a little less cringeworthy?
Well, before I answer that question, the first thing you should do, if you're an introvert who visibly winces whenever an opportunity for small talk presents itself, is ask yourself why, exactly, these exchanges bother you so much. According to April Snow, MA, AMFT, a San Francisco-based therapist who specializes in working with introverts and other highly sensitive people, introverts typically prefer to make deep, long-lasting connections with people, meaning small talk can feel painful simply because it's, well, boring, and kind of superficial.
Having said that, though, just because something is boring and uninteresting to you, doesn't mean you can automatically avoid it forever. According to Lori Harder, a transformational speaker, women's empowerment coach, and author of the upcoming book A Tribe Called Bliss, avoiding small talk at all costs could sometimes mean missing out on important things like promotions, relationships, or other opportunities that genuinely matter to you.
Look, it's not that your decision to avoid small talk is a "bad" thing. Sometimes, Harder tells Elite Daily, we keep ourselves focused inward for the sake of self-preservation. But rest assured, if you want to find a way to make small talk a little less painful, and more meaningful, these small practices can help you get there.