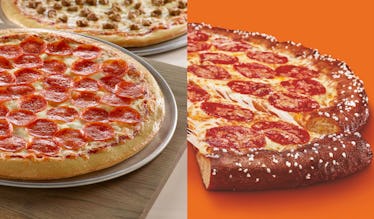 These National Pizza Day Deals Include Free Slices & So Much More
Well, it looks like February is finally here after a long AF January, and to say that I'm over constantly saying, "I'm cold," is a major understatement. To be completely honest, I'm pretty much dying for those first few signs of spring to come, after enduring far too much ice, snow, and of course those dreadful below freezing days. On the bright side, however, these 2019 National Pizza Day deals are comin' in hot to honor the world's greatest carb-loading holiday on Feb. 9. I can almost guarantee that they'll make the dreariest winter month a tad tastier, and your bank account won't even take a major hit for it.
Maybe you prefer ordering your pies from Domino's to take advantage of their latest and greatest Points for Pies program, or there's a slight chance that you tend to gravitate more towards Cici's Pizza (because for real, who can resist that tantalizing pizza buffet?). Well, regardless of your pizza preferences, there are so many different 'za chains that are coming through for the greatest holiday of all, and for that, I am eternally grateful. So, check out where you can get a cheap slice or discounted whole pie in the list of participating restaurants below.