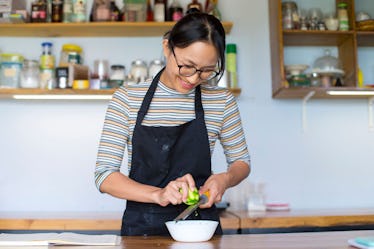 The Most Adventurous Cooking Trends To Explore In 2019 If You're Bored In The Kitchen
2018 was the year that I finally tried cooking with new foods like fresh figs, miso paste, and gnocchi, and these simple ingredients have really been game-changers when it comes to my time in the kitchen. I've always loved discovering new (or, you know, new to me) food trends and learning about the different flavors and health benefits associated with whatever's currently taking over the Instagram Explore page. If you're as excited as I am to find out some of the 2019 cooking trends that'll be popular come the new year, get ready to try your hand at some unfamiliar dishes, because I've got all the juicy (pun most definitely intended) details.
Each year, Kimpton Hotels and Restaurants forecasts some of the culinary and cocktails trends that are predicted to be big for the new year. For 2019, the hotel brand took a look at the ingredients, flavors, dishes, and drinks that chefs and bartenders across the United States are expected to wow us with come Jan. 1. The results were determined by a survey of more than 100 food service professionals working at Kimpton restaurants and bars, and honestly, some of these ingredients are things I've never tried making, so I'm ready to jump in and get my hands dirty.
Bonus points to you if you're able to incorporate every one of these trends into a single meal, Chopped challenge-style (extra bonus points if such a concoction actually tastes good).
Here's what you have to look forward to in the kitchen come 2019, as well as what experts in the space have to say about these trends.