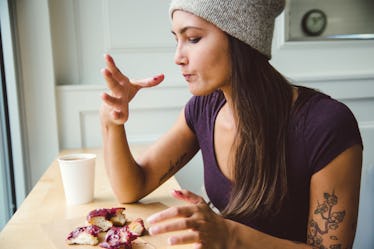 A New Report Revealed The Top Food Trends For 2019, So Put Them On Your Shopping List
The holiday season is in full swing, which means 2019 is just within reach. As you start to plan for the year ahead, reflect on the ways in which you took care of your body throughout 2018. What exercises did you try because an influencer, or maybe a Kardashian, told you to? Did you go keto, experiment with CBD, or play around with plant-based recipes? Wellness trends tend to come and go with the seasons, but some stick around for a lot longer, and experts are already anticipating the top food trends for 2019 based on a select few that seemed to thrive over the past year. Grab a pen and take notes, friends, because the new year is coming in hot, and these anticipated trends could help the next 365 days become your healthiest yet.
Of course, as is the case with any health and wellness "trend," it's always a good idea to do your own research on the subject. Thanks to social media (I'm mostly looking at you, Instagram), anyone can be an influencer, post a lovely filtered image, and write captions that sound appealing, and maybe even intelligent. But just like you can't believe everything you hear, you really shouldn't believe everything people say on the internet.
Take it from someone (aka me) who took a shot of apple cider vinegar because it looked great on Insta, only to later discover that ACV actually flares up her IBS symptoms and makes her stomach hurt all night: If you're interested in experimenting with whatever's buzz-worthy on the internet RN, read the relevant studies, check your sources, and always consult with your doctor first.
Now, let's get into the food trends, shall we? In a new annual report from KIND Healthy Snacks, a whopping 5,000 food and beverage experts and practitioners from around the world announced the food trends they're forecasting for 2019. Here are some of the ones you'll want to take notes on as you head into the new year.