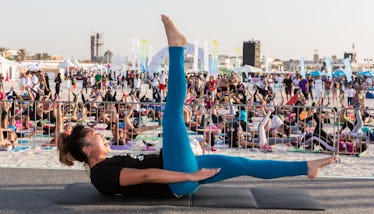 7 Fitness Influencers Who Inspired Us To Move Our Bodies All Year Long In 2017
Nick England/Getty Images Sport/Getty Images
2017 was truly a sh*t-storm, my friends, and on the most challenging and chaotic of days, hitting the gym was likely the furthest thing from your mind. However, there's no denying the fact that maintaining an active, balanced lifestyle has the power to make you feel absolutely incredible, both mentally and physically. Finding inspiration was definitely tough at times, but with the help of the many 2017 fitness influencers who dominated our social feeds this past year, their motivational, positive presence was absolutely key for surviving and thriving these past few months. And I say the time has come for us to properly thank these influencers for helping us brave the nightmare that was 2017.
If we're being honest with ourselves, social media can be a tricky place to navigate with all of the unrealistic standards it places upon women, and the feelings of inadequacy that it can bring up in even the most confident of us. But these seven badass ladies did exactly the opposite of that by keeping it real, challenging the norms, and inspiring us all to maintain a realistically active lifestyle while still feeling like a damn goddess (sans Photoshop — bless up).
Seriously though, when I was tempted to curl up into a blanket burrito and watch Netflix for about seven years, these were the women I turned to, to coax me out of hibernation and convince me to squeeze in a kickass sweat sesh. Ladies, thank you so much for everything you do, and I can't wait to see what you have in store for us in the new year.