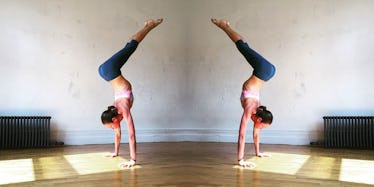 #FitFam: 10 Fitness Gurus To Follow On Instagram For Major Motivation
We all need some workout motivation, and the fitness gurus of Instagram seem to be living our ideal lives. With perfect bodies and tons of beauty and success, these fitness masters are what we aspire to be.
That success story post or contorted yoga pose picture may be just be what inspires you to get off the couch and hit the gym.
Here are 10 of the trendiest fitness gurus to follow on Instagram today:
1. Kayla Itsines
With over 3 million followers on Instagram, Kayla Itsines is one of the most popular fitness experts worldwide. Her Instagram is full of success stories that inspire us to try one of her amazing eBook workouts.
Her body is sick, she posts the greatest healthy food porn, and her boo Tobi is equally inspiring.
2. Tara Stiles
Tara Stiles is, simply put, the queen of yoga. The founder of Strala Yoga, Stiles is inspiring, motivating and extremely giving.
Her scenic posts and contorted positions totally make you want to "namaste." She's also a great mentor when it comes to diet, and her "Make Your Own Rules Diet" book works for practically everybody.
3. Chris And Heidi Powell
This power couple is everything you and your (future) SO aspire to be.
They are fit, beautiful and have a perfectly happy family. Famous for their life-changing show, "Extreme Weight Loss," the Powells truly practice what they preach.
Their CrossFit-style workouts are intense and inspiring, and every post warrants a #FitCouple hashtag.
4. Tracy Anderson
Sleek, sophisticated and fit, Tracy Anderson is the ultimate dance fitness guru. As a celebrity personal trainer, this former dancer helps sculpt countless beautiful bodies.
Her Instagram provides relevant and expert advice for cardio dance fitness, and her intense workouts and rockstar body will make anyone want to follow her account.
5. Tone It Up
Fabulous beach babes with killer abs? What other fitspiration could you want?
Karena and Katrina of Tone It Up are famous for their YouTube channel, where they post toning workout routines you can do right in your apartment.
Their recipes, workouts and TIU community make being a TIU girl the hottest thing. Their success stories, inspirational quotes and hysterical videos show us they're bundles of fun!
6. Jamie Eason Middleton
BodyBuilding.com pro Jamie Eason Middleton has been inspiring women and men for years in the fitness industry.
Her lean body, workout tutorials and adorable posts of her family make her Instagram very well-rounded. She's fun, encouraging and one hot mom!
7. Rich Froning
Rich Froning, aka the "Fittest Man On Earth," is the boss!
This CrossFit megastar has won the CrossFit games several times, despite only starting CrossFit in 2009! His body alone is an inspiration.
His success and victory may be just what you need to reset yourself and get to the gym. But don't expect a follow in return. He only follows his gorgeous wife, Hillary.
8. Misty Copeland
Simply flawless, Misty Copeland is the first African-American female principal dancer in the American Ballet Theatre. (But you probably know her from her amazing Under Armour campaign).
Her Instagram posts may make you reconsider your childhood dream of becoming a dancer. She is graceful and a true success story, and her posts are beautiful and captivating.
Want a quality Instagram feed? Follow this beauty.
9. Amanda Latona Kuclo
Amanda Latona Kuclo is a total badass, fit chick.
Newly married, her and her equally badass hubby are the ultimate fit couple. She is the queen of gains, and she knows how to work it at the gym.
Not only do her workouts and demos on Instagram challenge you, but her workout outfits are also just as noteworthy.
10. The Rock
Dwayne "The Rock" Johnson is absolutely the man.
With over 27 million followers, his driven mindset and dedication are truly admirable. His screenshots of his 4 am alarm can make you feel like a loser for hitting the snooze button at noon, but he is a true inspiration nonetheless.
His gains, determination and drive make him one of the best fitness gurus to follow on Instagram.
Who else do you think should have made the list? Comment below with your favorite fitness guru to follow on Instagram.