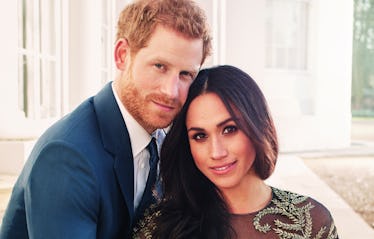 There's A Prince Harry & Meghan Markle Lifetime Movie In The Works Because Of Course
In the least shocking news you'll read today, there's a Prince Harry and Meghan Markle Lifetime movie already in the works. Let's be real, we knew this would happen, it was just a matter of when. According to Deadline, the movie will be called Harry & Meghan: The Royal Love Story, and will focus on, you guessed it, Prince Harry and Meghan Markle's love story. Deadline reports the movie will cover everything from their first meeting (they were introduced by mutual friends), the beginning of their romance, and all of the media struggles they went through once their relationship was public. The cast hasn't been revealed yet as the movie is reportedly still in the casting process.
One of the plot points in the TV movie will reportedly cover the fact that Markle has been married once before, according to Deadline. Royal tradition used to mandate that a member of the royal family couldn't marry a divorced person, but thankfully, times have changed and that's no longer as big of an issue as it was when Princess Margaret wanted to marry Peter Townsend (thank you, The Crown, for the excellent history lesson). The premiere date hasn't been announced yet, but seeing as Lifetime premiered its Prince William and Kate Middleton movie the same month they got married in 2011, that's probably the goal for this movie.
William and Kate starred Grey's Anatomy actress Camilla Luddington and Nico Evers-Swindwell.
It was all about the Duke and Duchess of Cambridge's relationship, starting when they met at the University of St. Andrews and ending with their engagement while on a trip to Africa. Funny enough, Prince Harry and Meghan Markle went on a trip to Africa (Botswana, to be exact) before they got engaged and it's credited as the place where they really ~fell in love~. The Lifetime movie will no doubt include their Botswana trip as part of the plot.
The ring has three diamonds: one larger one in the middle and two on either side. The center diamond, according to Prince Harry (who designed the ring), is from Botswana and the other two are from Princess Diana's jewelry collection. The ring is a touching tribute to Prince Harry's late mother, whose famous sapphire and diamond ring was given to Kate Middleton by Prince William as her engagement ring.
If Lifetime wants to air its Prince Harry and Meghan Markle movie the same month as the royal wedding, the network will have to act fast. Prince Harry and Meghan Markle's wedding date has been set for Saturday, May 19, 2018, giving Lifetime only five months to complete the movie. But something tells me it will be ready by then. Kensington Palace announced back in December that the wedding would take place on May 19, and we already knew it would be held at St. George's Chapel at Windsor Castle. The statement announcing the royal wedding date read,
His Royal Highness Prince Henry of Wales and Ms. Meghan Markle will marry on 19th May 2018. Today's announcement follows earlier confirmation of the month of the wedding and its location at St George's Chapel, Windsor Castle.
Prince Harry and Meghan Markle spent a lot of time traveling between the UK and Canada during their relationship. Markle lived in Canada while she was there filming Suits, and Harry obviously lives in England, so the movie will likely be set between those two places. So, if you're a huge Prince Harry and Meghan Markle fanatic, keep your eyes peeled for Harry & Meghan: The Royal Love Story on Lifetime!