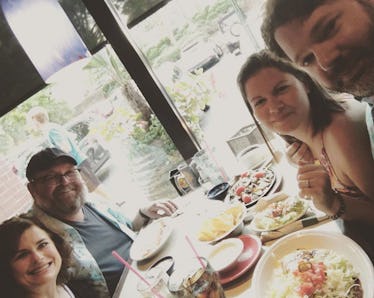 There Was A 'Queer Eye' Double Date This Weekend & I Seriously Wish I Was Invited
All right, people. I've said it once and I'll say it about a billion times again. If you don't already watch Netflix's Queer Eye, you are deeply, deeply missing out on something absolutely delightful. You see, Queer Eye isn't just a show about making over straight dudes with no fashion sense. No, Queer Eye makes these guys over from the inside out. Often times, they use their newfound confidence they wind up making their wildest romantic dreams come true. This absolutely epic Queer Eye double date goes to show some of our favorite stars are even going on to become friends off camera.
What double date am I referring to? Oh, you just wait! This is about to rock your world. You ready? OK, here I go: William Mahnken and Shannan Eller (season two) just went on a date with Tom Jackson and Abbey Parr (season one). Are you freaking out as much as I am right now?!
Apparently, Mahnken was the mastermind behind this fantastic idea. Last week, he went on Instagram where he posted a collage of a photo of himself and his wife, Eller, and one of Jackson with his wife, Parr. He captioned the photo, "Double date? Stay tuned Saturday." Like, um, yes, I'll stay tuned. Don't have to ask me twice!
After posting a teaser of that magnitude, most of us would be afraid of not being able to live up to the sky high expectations we just set for our fans. But not Mahnken. No, instead, he managed to set his fans' expectations high only to exceed them. Yep, that's right. A week after posting the teaser, he flooded our Instagram feeds with adorable pictures of his double date with Jackson and Parr.
He started off the series of posts with a picture of Jackson squeezing an orange into his margarita along with the caption, "With @tomjackson5042 and Abby at our @queereye double date!!!! MARGARITAS!!!!! @treeandshield." If you guys are out of the loop on why this post rules, it's because Jackson LOVES margaritas. Well, in particular, he loves what he refers to as "redneck margaritas," a combination of Mountain Dew and Tequila Gold.
Next he posted a couple of both couples looking fresh to freaking death with the caption, "@queereye double date!!!! William/Shannan Tom/Abby @treeandshield @tomjackson5042 @tanfrance @jvn @karamobrown @bobbyberk @antoni."
Finally, he posted an adorable selfie of the two couples sitting at the table where it looks like they're enjoying some delicious Mexican food along with the caption, "@queereye double date featuring William/Shannan and Tom/Abby #doubledate #queereye @treeandshield @tomjackson5042."
A little backstory for those of you who don't watch the show: Jackson and Mahnken were fan favorites of Queer Eye fans because of their adorable romantically-driven storylines. Jackson, the season one opener who got us all hooked on the show in the first place, used his Queer Eye makeover to win over his most recent ex-wife Parr. Shortly after his episode aired, the two got remarried. Mahnken, on the other hand, was already living with Eller when the Fab Five showed up to make him over. He chose to have the Fab Five help him make a rom-com style proposal for his bae and, trust me, it was a total hit. Now they're also married.
Now that Queer Eye helped them both tie the knot, it's only appropriate that the two newlyweds go on an adorable double date together! Hopefully this will be the first of many.
Check out the entire Gen Why series and other videos on Facebook and the Bustle app across Apple TV, Roku, and Amazon Fire TV.
Check out the "Best of Elite Daily" stream in the Bustle App for more stories just like this!