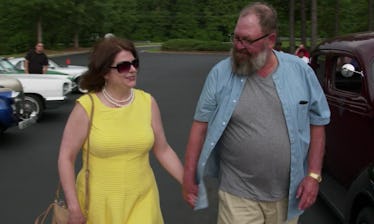 Pour Yourself A Redneck Margarita, 'Queer Eye's Tom & Abby Got Married Again!
Queer Eye for the Straight Guy/Netflix
On the off chance you haven't had the chance to watch the Netflix reboot of Queer Eye for the Straight Guy, I highly suggest you take the rest of the day off work, go watch the entire first season and prepare to have your world rocked. Every episode is equally soul-shattering and beautiful, but one episode particularly captured the hearts of every viewer: The pilot that featured everyone's favorite self-proclaimed "dumb, old, country boy," Tom. And now Queer Eye's Tom Jackson and Abby Parr got remarried! Dreams really do come true!
For those of you who haven't had the pleasure of watching Tom's episode of the show and who also don't have time to take off work right now to go watch it, let me give you a little backstory on him. To put it quite simply, Tom Jackson is the most lovable man you'll ever see. He starts off the episode with extremely low self0esteem, making self-deprecating jokes like, "I think I'm unlucky in love because I'm butt ugly." Uh, so not true and so heartbreaking.
But even at his lowest low, Tom is clear on one thing: he still loves his second ex-wife Abby and wants to become the best version of himself for her. "I see my ex-wife Abby every now and then," he shares on the show. "We're still friends and I want her to be excited about the new me."
Throughout the episode, he doesn't hold back on letting the Fab Five know just how much he adores his ex. "Well, I love Abby more than anything, I want to spend the rest of my life with her," he says at one point. "She says she loves me, I know I love her," he remarks at another point. "You'll have to ask her why she's not with me."
Finally, with the help of the Fab Five, Tom regains his confidence and works up the courage to ask Abby to be his date to a car show. She said YES, the two shared a lovely date and viewers were left hopeful of an off-screen reunion of the couple.
Unfortunately, the reunion didn't quite happen as seamlessly as most of us would have liked. On Feb. 27, 2018, Tom posted a heartbreaking tweet stating:
I just watched my episode for about the 20th time. I cry like a baby ever time I watch it. Just to let the world know, Abby and I are no longer together. She will always be the love of my life. I will always love her more than anything!!!!!!!
Fans of Tom and Abby (myself included) were devastated but, much to our overwhelming delight, it looks like the two managed to find their way back to each other, after all.
On Mar. 6, 2018, he announced that him and Abby were engaged, sharing:
So happy to say that Abby and I are reunited we've loved each other for many years and want to spend the rest of our lives together!!!!!!!!
Just yesterday, May 9, Tom made an announcement about their wedding on Twitter:
Abby and I got married!!!!!!!Gatlinburg, Tennessee at Chapel at the ParkJust the two of us, an elopement wedding then a honeymoon in the mountains!Check out the article written about us in Us Weekly magazine!!!
I think I'm more happy for them than I've ever been for any couple ever in my entire life. Hands down.
While we've all been kept very much in the loop on Tom's perspective on their love story, Abby gave a rare glimpse into her P.O.V in an exclusive interview with Us Weekly. She told the publication:
Thomas and I, we have never really been apart, apart. We have been best friends for 12 years and we have known each other for 12 years. We have always loved each other, that never stopped, whether we were together or not.
So beautiful. Here's to us all finding a love even half as everlasting and unwavering as that of Tom and Abby.
Check out the "Best of Elite Daily" stream in the Bustle App for more stories just like this!