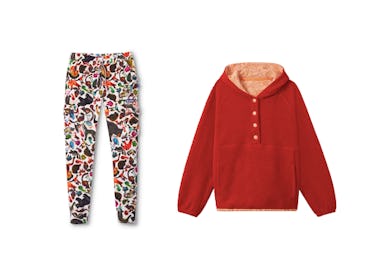 Winter's Fleece Trend Will Ensure You Have Your Coziest (& Cutest!) Season Ever
Opening Ceremony / Outdoor Voices
Forget about puffer coats. Ugg boots? Please. The winter 2018 fleece trend officially earns the top spot this season in terms of coziness and wearable head-to-toe hygge, and it's actually stylish AF to boot. Yes, it can be argued that fleece pullovers are another instance of dad style creeping (read: storming) into the fashion world but they're way cooler than their sneaker counterparts. You only need to look to the recent fleece-heavy collections of some of today's coolest brands to see.
New York-based designer Sandy Liang, who is a favorite of Gigi Hadid's, Fernanda Ly's, and basically every cool girl ever's, has been incorporating elevated fleece jackets into her collections since launching int 2013. They still channel that cool outdoorsy vibe a la REI but have been upgraded via bright colors, quilted details, and contrasting zippers.
More recently, brands with the likes of Outdoor Voices & Everlane have launched their own fleecy offerings. And just this week, Opening Ceremony and Columbia Sportswear released their own collaboration of fuzzy pieces in what is perhaps the raddest fleece-centric line yet. The line sticks true to Columbia's made-for-adventuring-in look and quality, while Opening Ceremony's influence can be felt in some of the colors and prints. "Pulling inspiration from Columbia's iconic outerwear and sportswear styles, the brands are offering a funky-yet-functional collaboration that includes trending street styles enhanced with several of Columbia's technologies," describes a press release.
It's clear that fleece has officially made a (super soft) landing within the contemporary fashion world. Wearing it literally feels like being hugged by a cloud so yeah, it can stay.
Shop 10 of the best fleece offerings below.
Soft Spot
Who would've thought a fleece bag would be so dang cute! Festivals, traveling, hiking—I'd wear this all the time.
Gaper Day
It doesn't get more '90s ski-inspired than this hoodie, which features a bright pink and purple color way and that fleecy finish we all know and love. Wear it on the slopes or on the sidewalks. Either way, you'll look rad.
Oh You Fancy, Huh?
Fleece, but elevated. This button-up oversized over shirt is definitely on the fancier side of the trend, which is ironic seeing as I can already see myself sleeping in it.
Tread Softly
Because fleece-lined boots are a must for winter! This pair is by Sorel, perhaps the most trusted purveyor of snow boots around, and boasts a cool, glossy olive green finish.
Wild Thoughts
Leopard print plus animal-like softness that's faux? Check and check.
Doing Grape
The perfect workout pullover.
Creatures of Comfort
Okay, these pants feature color motifs of birds and snails and foxes and frogs and so many more cute little critters! Fan-girling hard.
Happy Feet
You'll have 'em if you're wearing these.
Sweat It
These will make every day feel like Saturday.
Fuzzy Feelings
And finally, a fuzzy cap to keep your head nice and toasty. When we said the trend offered fleece from head-to-toe, we meant it.