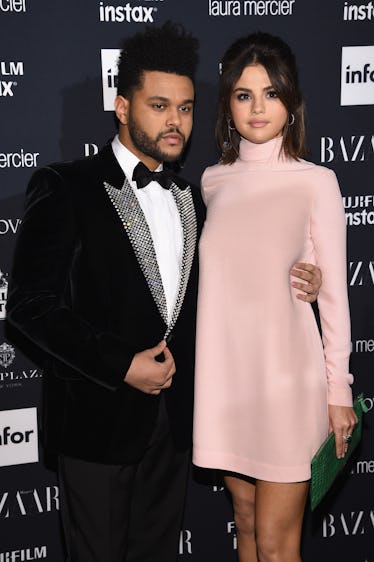 The Weeknd Has A Secret Album Inspired By Selena Gomez & You'll Never Hear It
Dimitrios Kambouris/Getty Images Entertainment/Getty Images
It's a pretty big weekend for Selena Gomez fans, what with Netflix dropping the new season of 13 Reasons Why and all. The former Disney Channel star is an executive producer on it, in case you didn't know, and her new song "Back To You" is also featured on the soundtrack. And yes, I've got that bad boy on repeat. There's one thing fans won't be getting any time soon, however, and it's The Weeknd's secret album inspired by Selena Gomez. This is something that actually exists in the world, you guys! And TBH, I'm kind of pissed about the fact that I'll never get to hear it.
Just to recap, the two split back in October 2017 after dating for almost 10 months. On March 30, The Weeknd released his latest EP, My Dear Melancholy, which people began referring to as "The Breakup Album," since it featured some pretty dark songs with names like "Wasted Times" and "Hurt You" that seemed to be about the demise of his relationship with Gomez. But now, in a recent interview with Time, the "Can't Feel My Face" singer revealed that he actually had a whole other album ready to go before Melancholy that was basically anything but.
"Prior to Melancholy, I had a whole album written, done," he said. "Which wasn't melancholy at all because it was a different time in my life. It was very upbeat — it was beautiful."
Sounds amazing, right? But unfortunately, we'll never get to hear it. Like, when asked if he'd ever release the upbeat tunes, The Weeknd literally answered, "Never." We all know what Gomez's other ex, Justin Bieber, would have to say about THAT.
Sorry, dude, but you totally left yourself open for that one.
Anyway, I have to admit I kind of respect The Weeknd's decision to stay true to his heart. "I don't want to perform something that I don't feel," he explained. And as bummed as I am about this news, I also totally get it. So I guess I'll just have to move on — at least for now. Because let's say these two decide to get back together one day, and The Weeknd is suddenly all, "I'm feeling it again." Then we may just get to hear those upbeat jams after all!
As far as My Dear Melancholy goes, The Weeknd won't confirm or deny whether any of the tunes are actually about his ex. "I don't want to open that Pandora's box, talking about relationships," he told Time.
Fair enough. But that hasn't stopped the "Starboy" singer's fans from pointing out on Twitter that one of his songs in particular — "Call Out My Name" — definitely seems to be written about Gomez. Sample lyric: "We found each other, I helped you out of a broken place. You gave me comfort, but falling for you was my mistake."
It's all just so heartbreaking, you know? Oh, and get this: The Twitterverse also went wild with the theory that the lyrics of verse two of the song make a reference to Gomez's kidney transplant — and hint that The Weeknd was almost a donor! I repeat, fans think The Weeknd was almost Gomez's kidney donor.
Here's the lyric in question: "I said I didn't feel nothing baby, but I lied. I almost cut a piece of myself for your life. Guess I was just another pitstop. Til' you made up your mind."
Pretty incredible. Although, sources close to Gomez told Entertainment Tonight that The Weeknd's lyrics were misleading, and that there's no way Gomez would ever have let him give her his kidney.
Still, that doesn't mean he didn't offer, or, at the very least, toy with the idea. I guess we'll really never know what actually went down. So while I will forever be annoyed that I won't get to hear whatever it was The Weeknd was singing about on the album he scrapped, at least we'll always have Melancholy and it's never-ending possibilities of interpretation. It's seriously like the gift that keeps on giving, so I'm gonna go ahead and call that a win.