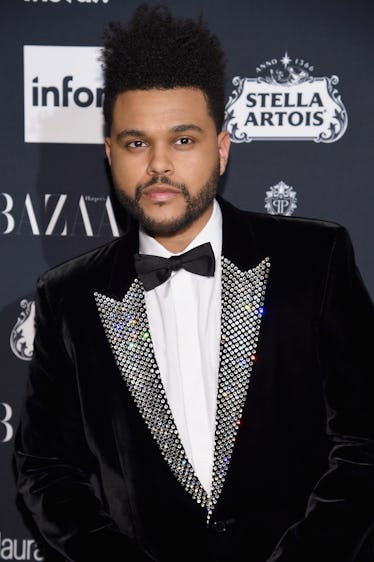 The Weeknd's Reaction To Bella Hadid At The 2018 Victoria's Secret Fashion Show Was So Cute
Dimitrios Kambouris/Getty Images Entertainment/Getty Images
Do you enjoy watching runway models in angel wings? Do you enjoy looking at lingerie that cost more than your monthly rent? If so, then boy have I got a show for you to watch. I'm obviously talking about the 2018 Victoria's Secret Fashion Show, people! The highly anticipated show was taped in New York City on Nov. 8 and will air on ABC on Dec. 2., which is getting me amped. And look, I know that the performances might pale in comparison to the rest of the show, but you have to be honest: most of the time, the performances are pretty stellar. Our good friend The Weeknd has performed quite a few times for Victoria's Secret before, so many people are wondering if he'll perform once more. Well, he certainly made an appearance, and The Weeknd's reaction to Bella Hadid at the Victoria's Secret Fashion Show was so, so cute.
First things first, though. If you're wondering whether or not The Weeknd performed, sadly he didn't make the cut — but he WAS there, supporting his girlfriend, Bella Hadid, which is adorable on so many levels.
According to Vogue, performers like Halsey, Shawn Mendes, and Rita Ora are in the star-studded line-up for the night's musical guests.
"The show is a year-long production, and 2018 promises to be our most ambitious yet," Victoria's Secret executive producer Ed Razek told Vogue. "We have more musical guests, more fashion and more stories than ever; and, of course, 60 of the world's top models."
Since The Weeknd didn't perform this year (bummer), let's all remember how he crushed his performance at the Victoria's Secret Fashion Show back in 2015, and then once more in 2016 — though, if I'm being honest, I was much more invested in watching the three seconds when he performed on stage as Bella Hadid walked by in the latter year.
After dating for about a year, The Weeknd and Bella Hadid broke up just before the 2016 Victoria's Secret Fashion Show, and we all got to witness their first reunion since their split on stage. Spoiler alert: it looked a little something like this:
Yowza.
But now that the pair is officially back on, it looks like The Weeknd was not only at the 2018 Victoria's Secret Fashion Show to show love for Bella, but he was also there with Bella's mom, Yolanda!
Can you even handle the cuteness?
And if you want to know if it gets any sweeter, I'm here to tell you that it certainly does, because The Weeknd stood and clapped every time Bella walked down the runway, according to Marie Claire. So yeah, he's pretty much crushing this whole boyfriend thing.
Now that The Weeknd and Bella Hadid have reunited (hallelujah), it seems like these two are closer than ever. So close, in fact, that multiple outlets have reported that the couple was moving in together.
Outlets like The New York Post and TMZ, have reported that The Weeknd asked Hadid if she'd move in with him into his new condo in New York City. The New York Post reported that the condo is a cozy, 5,004-square foot space with four bedrooms, four bathrooms, a powder room, and a private outdoor space. You know, just real quaint and charming.
To be honest, I'm just happy The Weeknd got to cheer his lady on from the sidelines, regardless of the fact that we didn't get to see him belting out tunes up on stage. You know what they say: Couples who show up to the runway together, stay together.