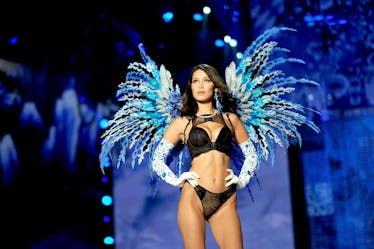 Here's What We Know About Bella Hadid Walking In The Victoria's Secret Fashion Show
Matt Winkelmeyer/Getty Images Entertainment/Getty Images
It's almost that time of year again, people! If you think I mean Christmas, you're not wrong, but it's also another time of year that I'm equally excited for: The Victoria's Secret Fashion Show! The highly anticipated 2018 show will be taped in New York City on Nov. 8 and air on ABC on Dec. 2. While there are some familiar faces returning to the runway in their angel wings, there are also some newcomers too, and I, for one, am beyond excited to watch all the sparkly magic happen. But I've been wondering if our girl Bella Hadid would be strutting her stuff this year, or if she's sitting this one out. So, is Bella Hadid in the 2018 Victoria's Secret Fashion Show? The answer will probably make you very, very happy.
Victoria's Secret didn't keep us hanging on who would be walking the catwalk for the 2018 show for too long (huge thanks to them for that). Just a few days before the taping of the 2018 Victoria's Secret Fashion Show, it was revealed on their Instagram account that Kendall Jenner, Gigi Hadid, and — hell yes — Bella Hadid are confirmed to walk the runway.
The official Victoria's Secret Instagram account announced that the show will be airing on Dec. 2, and then name-dropped some models we've been waiting to hear about.
The post read, "MARK YOUR CALENDARS! The #VSFashionShow will air Sunday, Dec. 2. See the Angels in action (and yes… @kendalljenner, @gigihadid & @bellahadid, too!)," and the video they posted featured a ton of Angels looking like, well, angels, walking around New York City:
Yas, queens! That means that Bella will be walking once more, after walking her first Victoria's Secret Fashion Show in Shanghai last year.
Hadid even took to Instagram just a few days ago, posting some ~fire~ pics of her getting runway ready while also defending herself against anyone who was looking to body-shame her. She wrote,
@victoriassecret fittings today💛i can't wait for you to see all of the beautiful outfits ...i'm so grateful to be a part of the show again, feeling happier and healthier than ever🖤 (all body types are different and react differently to a great workout routine and a healthy diet❤️💪🏼🌟)
So long as Hadid is happy and healthy, I think she looks pretty damn good to me.
And to be honest, she looked pretty damn good while walking at her first show, too. Let's take a look back at her walk down the Victoria's Secret runway, shall we?
Here Bella is, looking like a literal (Victoria's Secret) Angel:
And here she is again, this time looking like an ethereal Grecian goddess from another time:
She looks otherworldly in this ~lewk~ and it just might be my personal favorite:
She looked so slammin' that even The Weeknd had to do a double-take (despite their then-broken-up status):
Ah, yes. Remember when Hadid and The Weeknd broke up just before the 2016 Victoria's Secret Fashion Show after dating for about a year? And then we got to watch their first reunion since their split, and it proved to be very sultry? If you don't remember this momentous time, then just look at the GIF below for good measure:
It's pretty obvious that Bella Hadid slays the catwalk, so I can't wait to see her bring it this year. Do your thang, girl!